Linear NL
SPARTAN Linear NL, Class I Division 2, 3,970lm - 10,470lm
About SPARTAN NL Linear
Sector

Hazardous

Certification

Certification: UL 844, UL 1598, UL 1598A, and UL 8750; CSA 22.2 No. 137, CSA 22.2 No. 250.0 and CSA 22.2 No. 250.13; Class I, Division 2, Groups ABCD: Class II, Division 2, Groups FG; Class III; Class I, Zone 2, Groups IIC; and Class I, Zone 22, Groups IIIB
NL fixtures are durable and robust linear luminaires designed to replace linear fluorescent fixtures in industrial and tunnel applications. With a projected lifespan of 60,500 hours.  The NL is available in 2ft and 4ft lengths and can be surface-mounted or suspended from a ceiling. Up to 10.5K lumens output, IP66 rating, and optional CID2 Hazardous Location, multiple light output packages and easy field angle adjustment make the NL a flexible replacement for linear fluorescent fixtures.
Designed for industrial and harsh locations. 100% field serviceable for components and sub assemblies.
Minimum CRI of 70. Field angle adjustment with optional swivel mount. Surface or suspension mounting. End-to-end wiring installation. Multiple light output options to replace fluorescent fixtures. -40C to +55C operating range. IP66 vented enclosure eliminates pressure differentials for reliable sealing.
0-10V dimming 1%-100%.
Specs
Select Option
NL2S
NL2H
NL2X
NL4S
NL4H
Housing
Powder Coated Aluminium
Input Voltage
AC: 120-277 VAC | HV: 347-480 VAC
Rated Power
AC: 36W | HV: 36W
AC: 52W | HV: 52W
AC: 70W | HV: 82W
AC: 85W | HV: 90W
AC: 105W | HV: 109W
Connections
3/4 NPT, Both ends
Temp Range
AC: -40 to 55°C | HV: -40 to 54°C
AC: -40 to 55°C | HV: -40 to 54°C
AC: -40 to 52°C | HV: -40 to 46°C
AC: -40 to 55°C | HV: -40 to 54°C
AC: -40 to 55°C | HV: -40 to 52°C
Certifications
Certified to UL 844, UL 1598, UL1598A and UL 8750; CSA 22.2 No. 137, CSA 22.2 No. 250.0 & CSA 22.2 No. 250.13; Class I, Division 2, Groups ABCD; Class II, Division 2, Groups FG; Class III; Class I, Zone 2, Groups IIC; Class I, Zone 22, Groups IIIB
IP Rating
IP66
Colour Temp
5000K (2700-6500K options available)
CRI
70
Total Lumens
3970
5143
7965
8697
10470
Lumen Maintenance
LM-80 > 60,600 hrs
Weight
5.3 kg (12 lb)
5.3 kg (12 lb)
5.3 kg (12 lb)
8.6 kg (19 lb)
8.6 kg (19 lb)
Product Dimensions.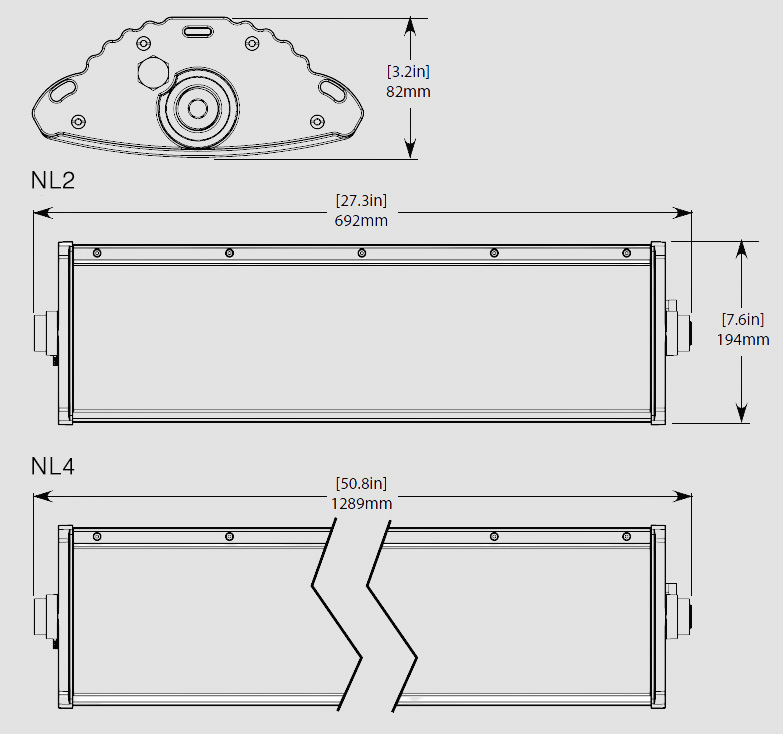 WARRIOR NL Linear