Lighting for Pharmaceutical Manufacturing
Raytec is a world leader in LED lighting for hazardous area environments. SPARTAN is our range of globally certified Ex LED luminaires, delivering class-leading performance and reliability. In this Application Focus we look at Ex lighting requirements within pharmaceutical manufacturing and identify some of the key factors to consider when specifying luminaires for these environments.
Why Ex Lighting is Needed for Pharmaceutical Manufacturing:
Pharmaceutical manufacturing may not be one of the first industries which comes to mind when thinking about typical uses for hazardous area equipment, but in reality, large parts of modern pharmaceutical facilities are classified as zoned hazardous areas. This is due to;
• Raw solvents, chemicals and gases which are used during the manufacturing process
• Powders, dusts and gases produced as a by-product of manufacturing
• Storage of materials and gases on-site for use in manufacturing
This means Ex lighting is often required for many areas, including internal manufacturing areas, clean rooms, internal and external access as well as storage areas throughout the site.
Pharmaceutical manufacturing facilities are often huge sites, stretching over many thousands of square feet, and may have thousands of luminaires installed across the site; a large proportion of them needing to be Ex rated.
Specifying Lighting for Pharmaceutical Manufacturing
Firstly, selecting a luminaire which uses LED technology (rather than conventional lighting, such as high-pressure sodium or fluorescent), should be considered essential when specifying for pharmaceutical manufacturing.
Consistent Light Quality and Longer Life
Many pharmaceutical sites still use conventional lighting technology. Fluorescent linear luminaires are particularly common. With a shorter lifespan in comparison to LED (fluorescent tubes must be swapped out every 25,000 – 36,000 hours) the task of re-lamping is an ongoing challenging, due to;
• Availability of manpower to carry out maintenance – with a vast number of fittings installed on some sites, the
maintenance team may be unable to keep up with the rate in which fluorescent tubes need to be replaced.
• Availability of spare parts – fluorescent tubes may also be difficult to get hold and can be on lead times of several weeks.
Limitations such as these can result in large numbers of luminaires on-site being non-operational, creating dark areas which can be detrimental to the safety and efficiency of working conditions.
In contrast, an LED luminaire can offer a lifetime of 100,000+ hours (providing it uses effective thermal management), without the need to re-lamp. In pharmaceutical manufacturing, opting for an LED luminaire can therefore free up the maintenance team and eradicate the problem of dark areas around the site.
With LED's capable of providing improved CRI (Colour Rendering Index) and higher colour temperatures than conventional lighting, choosing an LED luminaire allows light quality and working conditions to be drastically improved.
Energy Costs
Reducing running costs is often high on the priority list for pharmaceutical plants of all sizes but is especially relevant to larger sites (where there is a higher number of luminaires installed).
LEDs are far more efficient than conventional technology. This is most obvious when swapping out luminaires such as a 400W SON floodlight (which will use up to 440W of power). This can be replaced by an equivalent SPARTAN LED floodlight which will consume around 35% less power.
A fluorescent linear may, on the surface, seem more comparable to an LED linear in terms of energy consumption. For example, a typical 4ft fluorescent will consume 72W (2x36W), while an equivalent SPARTAN WL168 Linear consumes 59W. While this means an energy saving of around 18% is achieved, it's also important to consider that a fluorescent is only around 68% efficient and throws out light in all directions. This means a proportion of the light is wasted. When designing a lighting scheme, this will result in more fluorescent fittings being required, and a higher energy consumption.
In order to maximise energy savings, it's essential that pharmaceutical manufacturing sites opt for an LED solution.
Ease of Installation
Ease of installation is a significant element to consider when choosing a luminaire for a pharmaceutical manufacturing site; the reason for this is twofold.
Firstly, due to the volume of luminaires which pharmaceutical sites use, ease and speed of installation becomes essential in being able to keep time and cost to a minimum. Secondly, as many of the existing luminaires may use conventional technology, selecting a solution which makes the process of upgrading to LED more straightforward is also important. These luminaires can also be referred to as a 'retrofit' solution
Retrofitting
If replacing existing fluorescent luminaires,
our advice would always be to look for an LED
luminaire which has the same dimensions,
cable entries and fixing centres as the existing
fluorescent. This means the same bracketry, cable
and glands can be utilised, making the upgrade
more straightforward for the installer, and also
significantly reducing installation costs.
SPARTAN Linear has been designed as a direct
replacement for fluorescent fittings, and is
available in several different variants to retrofit
traditional 2x18W, 2x36W and 2x58W fittings.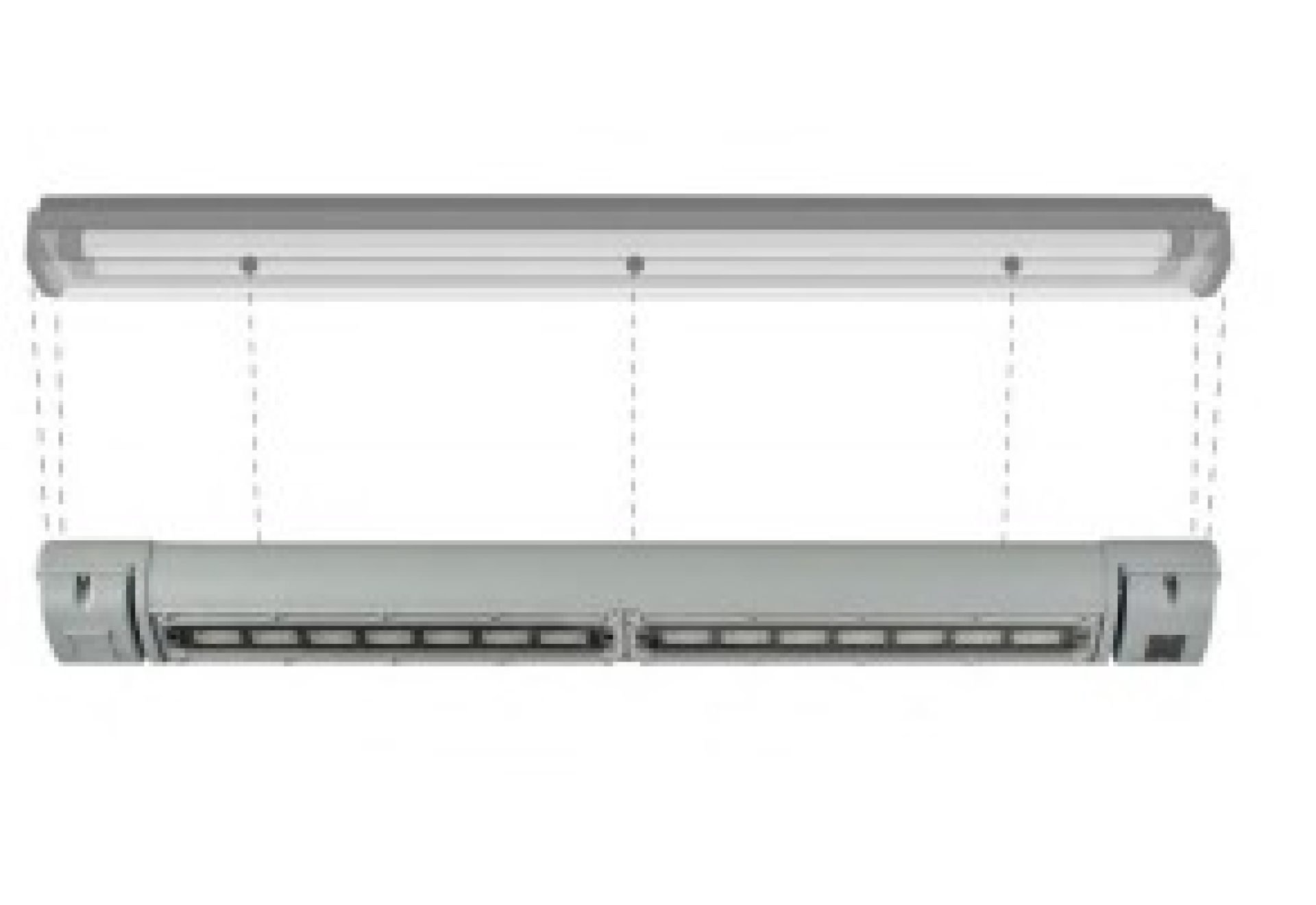 Through-wiring
Again, due to the volume of fittings on-site, a luminaire which can be through-wired is also an essential consideration when specifying lighting for a pharmaceutical project. Through-wiring offers the ability for multiple luminaires to be installed on the same circuit, and makes installation significantly quicker compared to individually wiring each luminaire.
As well as the ability to through-wire, it's also important to look at how the luminaire has been designed. Is there plenty of space within the end cap, or around the terminal block, to allow the luminaire to be through-wired easily?
As lighting must be installed in tricky to access spots (often due to the complexity of surrounding pipework) having a luminaire which has been designed for easy installation makes the job of the installer much easier and faster.
Top Tip for Specifying… Always check with the manufacturer to see if the luminaire can be through-wired as standard.
At Raytec, this is exactly the approach we took when designing SPARTAN Linear. SPARTAN Linear comes with through  wiring as standard and is also designed with push terminals, to make wiring more straightforward, and retention clips on the PSU modules to ensure it cannot be dropped when carrying out maintenance work at height.
Ease of Maintenance
We've discussed how specifying an LED luminaire can help pharmaceutical sites improve working conditions by reducing the frequency of maintenance required. However, it's also important to consider how easily maintenance can be carried out if it is required.
Modular Design
Modular Ex luminaires, like SPARTAN, are designed to make maintenance easier and faster to carry out.
Interchangeable key components can be replaced independently, allowing maintenance to be carried out
on-site and light to be restored within minutes.
In contrast, some Ex LED luminaires are 'sealed for life', meaning any failures cannot be rectified by onsite maintenance teams (doing so would invalidate the certification). Therefore, the luminaire must often be returned to the manufacturer for any maintenance, costing the pharmaceutical site time and money.
How Fast Can You Change a Power Supply on Spartan Linear?
Click here to watch.
Pharmaceutical manufacturing sites are high-risk environments which rely on the use of emergency lighting to ensure the safety of everybody on-site should a power failure occur.
Duration & Output
It is important to check the emergency duration of a luminaire to ensure it provides back-up illumination for a sufficient length of time. You should also consider the percentage light output of the luminaire in emergency mode. It is common for output to drop significantly when this switching takes place.
Most SPARTAN emergency luminaires provide 25% light output for 3 hours as standard, but if required can run at up to 100% light output for shorter durations. This provides the ultimate performance and flexibility for emergency lighting in hazardous areas. Prior to installation, it is recommended to complete a lighting design scheme based on both normal and emergency conditions. This will ensure sufficient light levels are being achieved and the correct number of luminaires have been specified.
Automated Testing
Modern emergency luminaires, such as SPARTAN Intelligent Emergency, are helping to make emergency systems more reliable. Designed to ensure optimum battery performance, they provide a self-testing function which automatically cycles the battery to ensure its health and to measure its capacity. This reduces the need to physically check the health of the luminaire, as this is relayed automatically, ultimately reducing the need for manpower and time.
For pharmaceutical facilities with a large quantity of emergency luminaires installed, this is extremely important. The ability to assess the health of the luminaire from ground level reduces manpower and means any issues can be rectified before complete loss of light.
If you want to know more about the key things to consider when swapping out fluorescent to LED, read our White Paper 'LED vs Fluorescent' here.
Shower Safe Luminaires
With chemicals and solvents being used as part of the manufacturing process, safety showers are often positioned around a pharmaceutical site so workers can decontaminate themselves in the event they become exposed.
Special luminaires using green light are usually deployed in these areas so the safety showers can be located quickly and easily. At Raytec, we offer SPARTAN Safety Shower Linear that uses green, long-life LEDs, which allow workers to quickly identify the location of safety showers in chemical and petrochemical environments
Lighting Design
Designing a lighting scheme is an essential part of specifying lighting for pharmaceutical applications. The nature of these manufacturing facilities means pipework can surround areas where lighting would normally be installed. This is where a lighting design is beneficial, helping to overcome obstacles which the site presents, and providing the best possible solution. For specifiers going through the initial design process with a clear brief in mind, a lighting design will provide peace of mind that the final solution will achieve the required, on-site lighting goal, with no surprises at the point of commissioning.
Raytec's completely free lighting design service provides you with the 3D visual representation of the final lighting solution, with detailed lux levels and a true indication of lighting performance. The use of CAD drawers of the site can be easily integrated into our software and allows for the most accurate lighting design to be generated. Our lighting design experts will give you dedicated one-to-one support to ensure that the optimum solution is achieved, in-line with your requirements.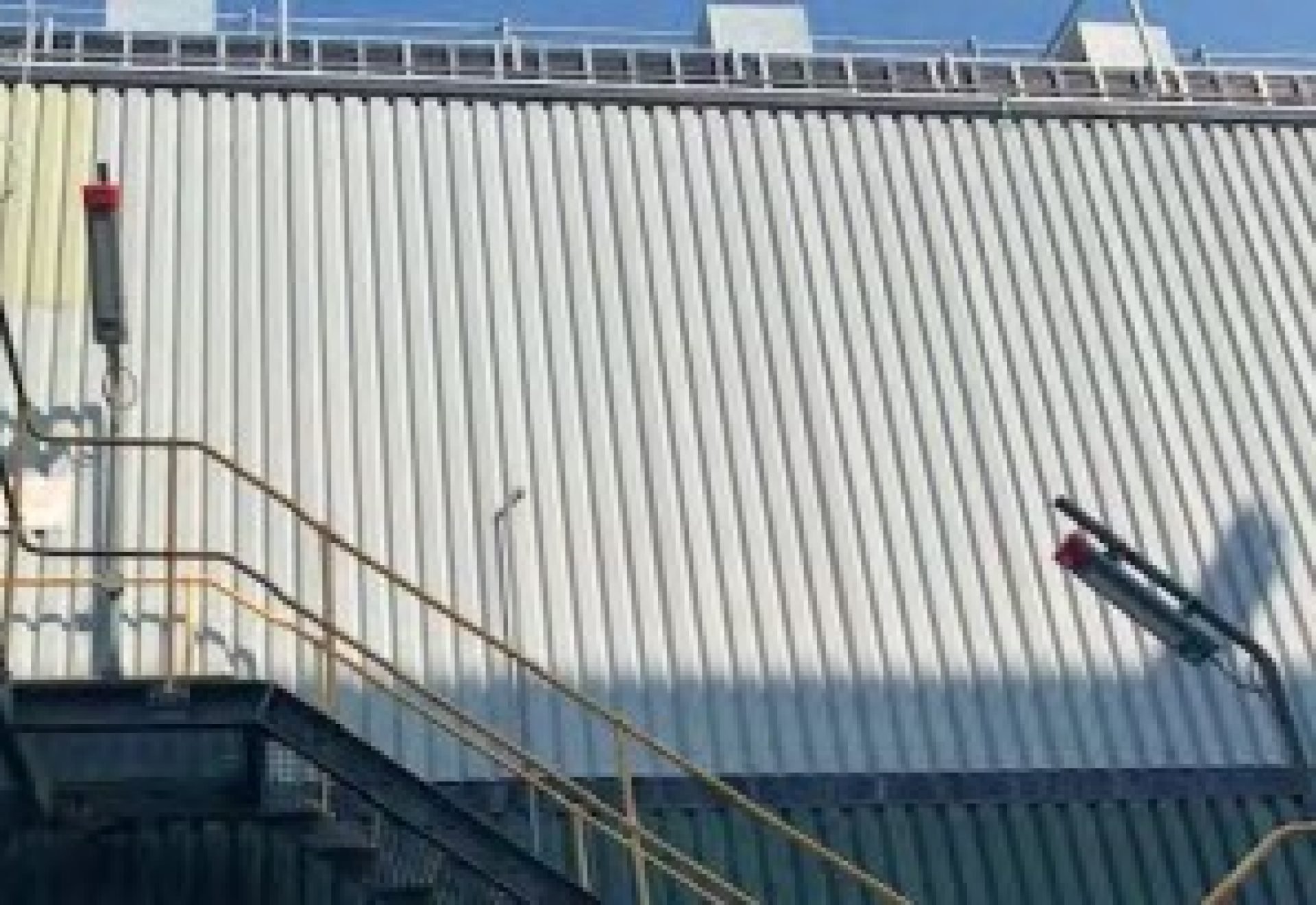 Lighting for Safe Area
Although we have discussed the requirements for hazardous area lighting for pharmaceutical manufacturing applications, large
sections of the site will be designated as safe areas. These areas include access ways, walkways, stair wells and car parks.
While these areas may not require hazardous area lighting, they will still require a high quality lighting solution to maintain working conditions and safety throughout the site; Raytec can provide solutions for these areas too.
URBAN-X is an industrial range of high-performance, general area lighting.
Manufactured from LM6 marine grade cast aluminium, and IP66 rated, URBAN-X protects against high salinity, making it ideal for safe areas around pharmaceutical sites, such as car parks, access roads and walkways. An in-built automatic thermal control (ATC) makes the luminaire suitable for high-temperature installations, with every unit featuring surge protection (2kV with photocell, 8kV without photocell).