The Benefits of Raytec Dali Enabled Lighting
Raytec have recently launched a new range of High Power Floodlights and Bay luminaires which offer full DALI capability. As some of the first hazardous area luminaires to incorporate DALI technology, this article looks further into what makes a luminaire 'DALI enabled' and the benefits this can bring.
What is DALI?
A Digital Addressable Lighting Interface (DALI) is a digital communication protocol developed specifically for the lighting industry.
DALI brings a host of new possibilities into hazardous area lighting applications by allowing groups of luminaires to be controlled together, or independently, using a master interface known as a Central Management System (CMS). As luminaires can be grouped and controlled together, an entire installation can be controlled remotely using a single CMS (which can be downloaded to a PC or other devices).
This functionality is facilitated by a luminaires' DALI enabled control gear. Unlike standard electronic control gear, the driver has embedded hardware which the user can communicate with using the CMS, via messages known as DALI commands (which are transmitted through a wired network). As well as being able to dim output levels, each luminaire is fully programmable which brings new possibilities to the lighting system. For example, luminaires can be automatically dimmed during daylight hours, or the brightness increased for specific shift patterns.
The Benefits of DALI
Allowing a network of luminaires to be controlled and monitored remotely provides a number of advantages over using conventional fixed output systems.
The most obvious benefit is the significant energy savings which can be achieved, thanks to the ability to dim the luminaires and the fact that input devices, such as motion detectors, can be built into the system (ensuring the luminaire is only providing the necessary level of light output and keeping energy consumption to a minimum). Energy savings have been a significant driver in the uptake of DALI technology in industrial applications.
While energy savings may be equally relevant to hazardous area applications, the unique challenges of using and maintaining lighting in a hazardous area environment, means some of the other benefits which DALI brings have further significance than they may have in industrial applications.
Usability
We have already highlighted how DALI allows luminaires to be grouped and controlled from one CMS. This makes managing the lighting across a site far easier and much more efficient. Lighting in specific rooms or areas can be, for example, switched on and off, dimmed as required or controlled using a host of other commands.
Example of a CMS interface used to control a group of luminaires remotely;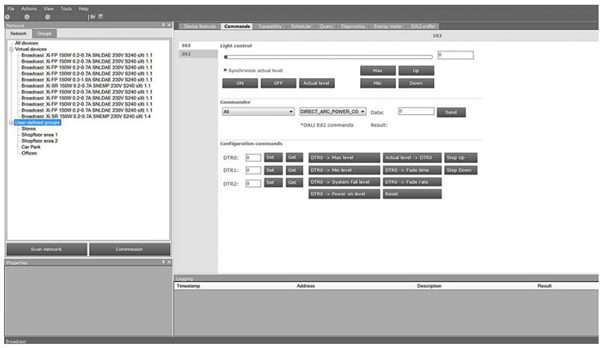 In the context of hazardous area applications, the ability to control the lighting system remotely is significant. DALI system cables can extend to a length of 300 metres between the luminaire and master interface (providing that the total voltage drop does not exceed 2V), meaning it may be possible to control the system from a safe area. Carrying out any task in hazardous area presents a level of risk so being able relocate the execution of tasks to a safe area, or to the comfort of an office, improves the overall safety of a site and makes access easier.
The emergence of Ex rated DALI luminaires, and the programmable nature of the DALI control gear, brings a new level of lighting intelligence to hazardous area applications.  Different 'scenes' (pre-set criteria which determine how each luminaire behaves) can be programmed to occur at specific times to allow the lighting system to operate and respond in a variety of ways.
Scalable and Accepted Industry Standard
As an established industry standard for lighting control, DALI is an open system which allows different types of luminaires to work together and communicate through the same CMS. For example, if a site upgrades their Ex lighting with DALI enabled luminaires, such as Raytec High Power Flood or Bay lights, the new fittings will be able to communicate through the same CMS as any existing industrial / non-Ex fittings which are installed (providing they are also DALI enabled), regardless as to whether they are produced by the same manufacturer.
Integrating new DALI enabled luminaires with the existing system is also quick and easy thanks to the simple configuration of DALI. The units can be used 'out of the box' without the need of any extensive programming, allowing users to upgrade their lighting system with minimum disruption to operations. This simplicity also means systems can be scaled up for larger applications and input devices incorporated (such as daylight sensors or motion detectors), and used to facilitate automatic control.
Maintenance & Inspection
The high risk nature of hazardous area applications, and often challenging environmental conditions, places greater importance on maintenance and ensuring luminaires are operating correctly. Using DALI enabled luminaires makes the process of monitoring and inspection far easier.
As well as being able to control a luminaire remotely, having access to a CMS also allows the user to monitor a luminaire's performance. The status of each luminaire can be monitored in live terms, making it easy to identify any failures or problems requiring further investigation. This gives the user the ability to monitor an entire lighting system using just a single device. The benefit of this is most significant in larger installations where maintaining existing lighting across site presents more of a challenge.
Depending on the configuration of the system, a DALI can also allow data logging to build a history of the system and each luminaire's performance. This data can be used for diagnostic or evaluation purposes, such as generating failure rates or fault analysis, or to record running hours which maintenance or inspection schedules can be planned around.
In the context of hazardous area applications, DALI provides significant improvements in the ease of day to day functionality and in streamlining maintenance procedures. Not only does DALI improve efficiency, but it can also improve safety by allowing luminaires to be controlled and monitored from safe area locations.
The Future of Lighting Control in Hazardous Areas
At Raytec, we believe in the power of connected lighting and the improvements in efficiency which it brings. Today, DALI represents the industry standard for wired industrial lighting control, which we're proud to offer through our new range of High Power Flood and Bay luminaires. As technology develops, we're committed to developing new products which incorporate wireless lighting control and provide our customers with even more possibilities in how they control their lighting.