Raytec Lighting Used to Reduce False Alarms
A council storage yard in New South Wales, Australia has deployed Raytec Infra-Red lighting to enable high definition images and significantly reduce false alarms at night.
The yard holds a range of high value items and is remotely monitored during the hours of darkness when the site is unoccupied. Consequently, achieving accurate video analytics, and reducing the number of false alarms were key for both the Integrator'CAV Audio, Video and Security', specialists in security alarm applications, and Suretek, an Australian owned distributor and security management company.
Despite the deployment of high quality low-light cameras the security planning team didn't hesitate to recommend that dedicated and high performance LED surveillance lighting should be integrated into the security system. Although initial trials indicated that the low light cameras could produce some images in low light conditions, without the Raytec LED lighting the images were extremely noisy. This tricked the in-built camera analytics system into thinking that the whole scene was moving and it produced high volumes of false alarms. The analytics required additional dedicated surveillance lighting to work to its full potential.
Aware that the user wanted to avoid flooding the site with visible lighting, CAV and Suretek recommendedRaytec's VARIO Infra-Red technology – positioned directly at each camera location and aligned to the camera field of view, getting all of the light where it is needed most.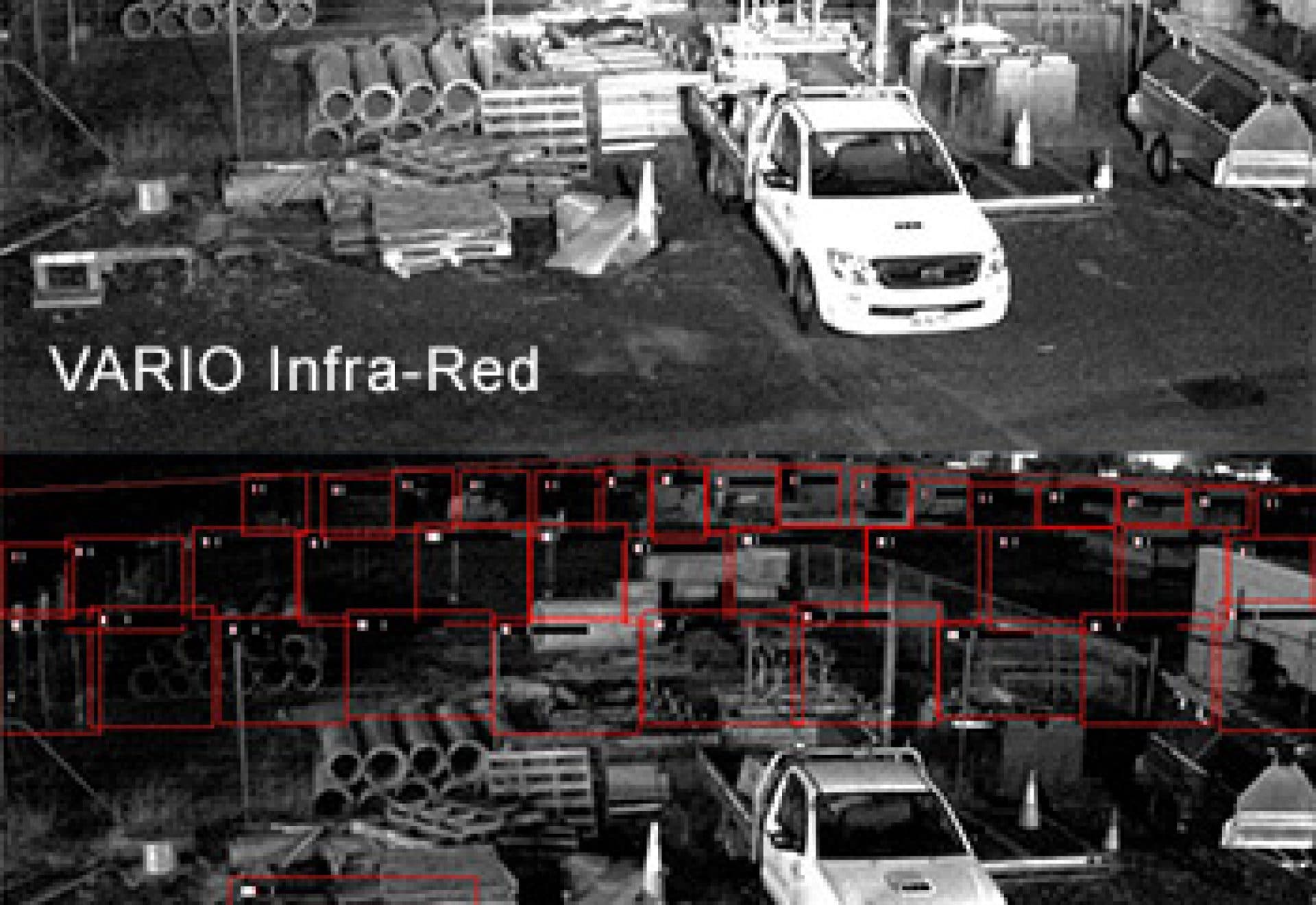 Using the correct lighting set-up, only a small amount of carefully targeted Infra-Red illumination was needed to make a whole lot of difference to the storage yard's security system – and one of the smallest VARIO Infra-Red models was selected. It delivered an extremely high quality and even spread of light, helping the camera system to capture clearer images and allowing the analytics to determine exactly what is happening on scene.
With VARIO IR lighting, the camera analytics system can work to its full potential and is able to successfully identify subjects/vehicles/activity on scene and relay reliable alarms accordingly. Crucially, with the right lighting, the system is also able to ignore movement from irrelevant entities such as animals or debris. As a result, the user is delighted with the seamless integration of all system components – unified by the Raytec Infra-Red lighting to achieve a system that delivers outstanding surveillance images at night with next to no false alarms.
Lighting expert and Managing Director (joint) David Lambert talks about the relationship between lighting and the smarter camera systems of today – and how the need for dedicated surveillance lighting at night continues to remain paramount.
"Lighting is at the core of almost every smart, high security surveillance system. But we still see many instances where the performance of a surveillance system is compromised at night by a lack of dedicated lighting. When it gets truly dark, the simple fact remains – all cameras need light to see at night – especially those with in-built analytics.Reliability and problems with false alarms have long been drawbacks with intelligent video systems. But with careful application of high quality lighting, it allows the analytics to work to its full potential."
David goes on to say: "Of course, when high performance video surveillance lighting IS paired with high performance low light cameras, the results are outstanding. Together they are capable of delivering extremely high definition images at night and exceeding distance expectations – often using a far smaller illuminator than previously needed!"
For more information on the Raytec VARIO family of LED Illuminators, or if you are working on a project that requires lighting, contact Raytec Global at sales@raytecled.com.