Lighting for the Cannabis Industry
Raytec are the world leaders in LED lighting for safety and security with 17 years of experience leading from the front. From Infra-Red, White-Light, Hybrid and IP lighting, we offer the most comprehensive range of illuminators for any video surveillance system.
Introduction to the Cannabis Industry
Attitudes surrounding the use of cannabis are changing around the world. In 2012, Uruguay was the first country to announce the legalization of the recreational use of cannabis, and since then, many other countries have softened their views on cannabis. Canada became the second country in 2018 to legalize the cultivation, possession, acquisition and consumption of cannabis. Although there are restrictions regarding where it can be bought and consumed.
From a business perspective, the market has huge potential for growth and investment. The US market accounted for 10.4 billion last year alone.
Subject Matter Experts
Raytec has over 40 years of experience in the lighting industry, supplying LED lights across a wide range of diverse applications. One of these applications is the legal cannabis industry. As more states begin to legalize recreational and medical use of marijuana, LED lighting has a major part to play in not just the growing of the plant, but also the security of the growing facilities. As previously mentioned, the cannabis industry has strict regulations, and security plays a major role in the licensing process. Raytec's knowledge of these security requirements lends a definite advantage over other manufacturers who are not as well versed in this space. Raytec's design team is very familiar with the CCTV requirements for achieving and maintaining a cultivation license.
Experience and Expertise
From small to large, indoor to outdoor, Raytec can provide an illumination solution for any cannabis cultivation site. Raytec's diverse range of products help meet the licensing requirements our customers face and assist in maintaining a secure facility. Hybrid Illuminators combine Infra-Red and White-Light into a single unit, meaning IR can be used for surveillance whilst White-Light can be triggered as a deterrent- critical to monitoring intrusion attempts.
Infra-Red can also be used inside the facility as one of the main advantages of using LEDs is that they give off specific wavelengths of light. These wavelengths can be fine tuned to the plants and their stages of growth. In cannabis farms, radiation above 800nm does not affect the physiology or morphology of the plants. As standard, all Raytec Infra-Red products are 850nm which is considered safe. Therefore, the illuminator is not disrupting or hindering the growth process.
Another advantage of LEDs are the energy savings. By comparing their energy usage against fluorescent or sodium fittings you can enjoy a saving of up to 60%. This is because a lot of energy is converted into heat when using traditional lighting.
A Complete Solution
Oil production areas within the cannabis facility are considered hazardous as they can be highly explosive. Raytec's SPARTAN range is a portfolio of fully ATEX and UL certified products which are suitable for Zone 1, Zone 2, C1D2 or Industrial environments. Therefore, Raytec meets both security and hazardous demands.
Design Service
See your lighting solution come to life with Raytec's 2D and 3D lighting designs. This visual representation shows you exactly where the light is targeting, minimising any light pollution and improving the efficiency of your system.
Flexible Power Options
1) PoE – To ease installation even further, Raytec provide a range of input options to power our units.
Choose from 100-230V AC/DC, low voltage 12-24V AC/DC or PoE powered illuminators.
2) IP Controllable – Operate the lights from anywhere on the network 24/7 via a web interface, VMS or directly with camera applications. This means you can fine tune images to achieve the best possible results and easily analyse the data. For complete security, integrate the lights with other
devices such as motion detectors, PIR's and fence protection systems. This is a big unique selling point for Raytec as no other competitor offers this level of integration with a VMS.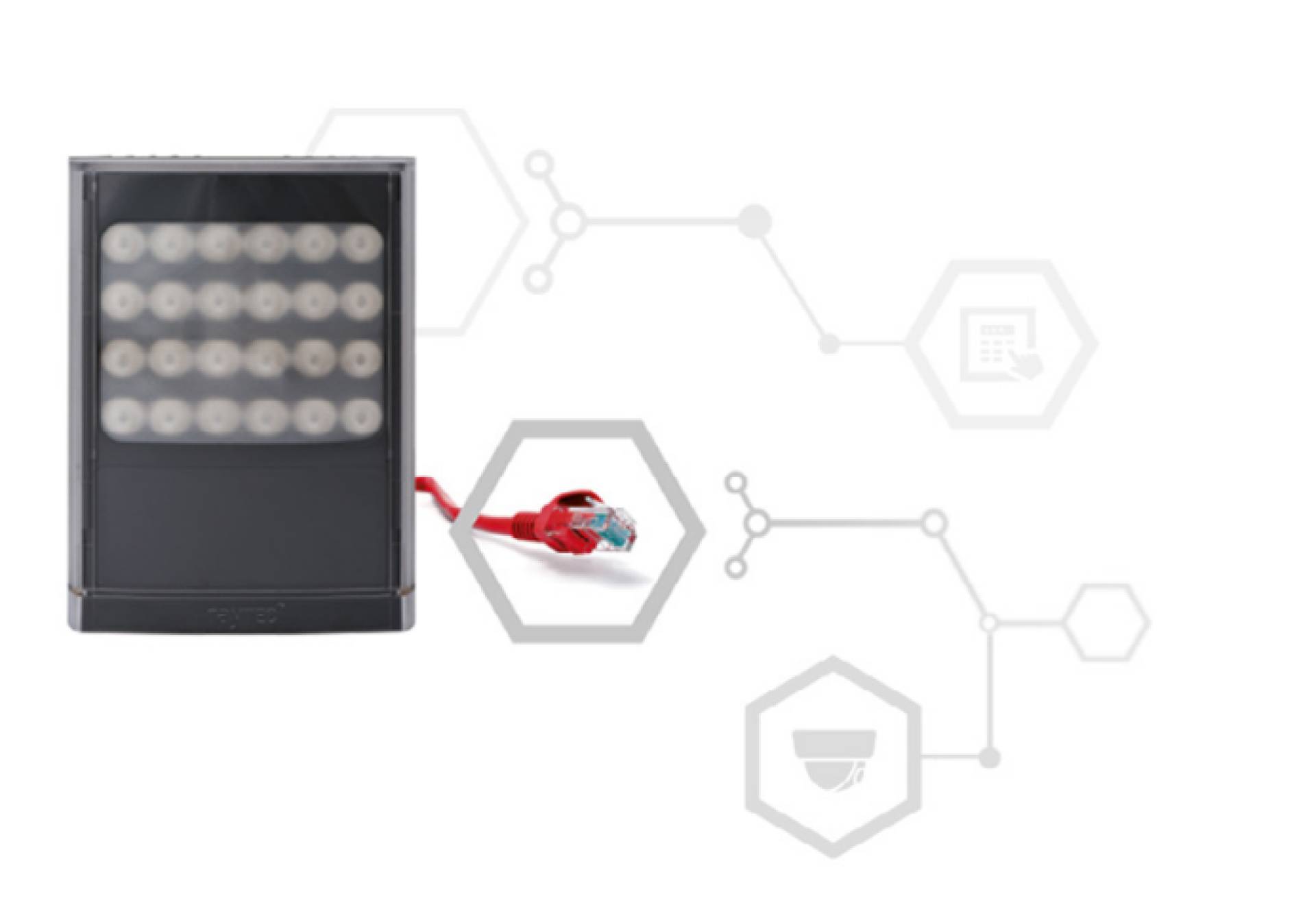 VARIO Extreme
VARIO2 Extreme illuminators are designed to provide extreme durability for video surveillance systems operating in the most challenging environments. Featuring a wide operating temperature range of -50° to +75°C (-58° to 167°F), VARIO2 Extreme is rated for use in the harshest environmental and operating conditions, including extreme salinity and humidity.
VARIO2 Extreme illuminators use PLATINUM Elite SMT LED technology which keeps them cool and long running. The range also includes advanced security features, interchangeable lens system and hot-spot reduction technology to improve the performance of any surveillance system at night. The VARIO2 Extreme i8 Infra-Red series also delivers maximum distances up to 350m (1148ft) which is perfect for perimeter protection. As previously stated, securing the cannabis facility is top priority , so having a full scope of the scene is a huge advantage.
Discretion and NDA Standard Practice
Cannabis facilities are highly secure, so the design phase is always confidential. Raytec puts the security of our clients & projects at a high priority. Raytec have assisted/participated in many high security applications and as such have protocols & procedures in place to maintain and support the confidentiality of documents, drawings and other intellectual property.
UK Designed and Manufactured
At Raytec, we're very proud to say that all our products are designed and manufactured in the UK. The very nature of security critical applications demands the highest levels of product quality and quality control so being able to design and manufacture in the UK is critical to this. Having one central production facility makes quality control easier and allows us to ensure that every product meets our high standards. On site we also have experts in product design, quality, certification, operations, lighting design, as well as a full sales team. Therefore, we have all the knowledge and experience on hand to provide the best possible service to our customers.
In addition, having a stocking warehouse and support in the USA and Canada means we can support ongoing projects in the Americas. For Raytec, the Americas is our biggest export in the security division, so having a team who can personally manage projects is key.
Tech Support
We are opinion leaders in the Security market offering technical guides, white-papers and set-up advice to our customers around the world.
Our Lighting Design Service helps you to specify the correct lighting levels and locations to a level unmatched in the industry. We can even provide you with illumination installation nest practices to help get the best results with Raytec illuminators. Our dedicated sales team are also on hand to assist with any additional queries.
Demo Program
If you're working on a project and interested in one of our Raytec products, speak to a member of the team and request your free demo unit. Alternatively, you can arrange a night time session which allows you to see the product in action prior to installation.