Analysing Raytec's Bay Lighting Solutions
Raytec have recently launched the SPARTAN & WARRIOR Mid Power Bay & Linear High Output luminaires which utilise optics, high-efficiency LEDs, and cutting-edge driver technology. These new products offer customers greatly improved flexibility when it comes to designing lighting schemes that would typically utilise LED bay lighting fixtures, and can help to significantly reduce energy costs and capital expenditure.
Historically, bay and area lighting applications with mounting heights of 6-12 metres would use traditional 250W or 400W SON, Metal Halide (MH), or Mercury Blended (MBF) fittings. However, these fittings are inefficient and offer little in terms of light output control.
In this article, we compare the SPARTAN Mid Power Bay and SPARTAN Linear High Output against traditional 250W SON wellglass fittings. We also explore the energy and capital expenditure savings that can be achieved by switching to LED.
Let us start by looking at a typical warehouse application, with luminaires mounted at 6m, and requiring 300lx on the ground.
Scheme A – 250W SON Wellglass 
Using a scheme of traditional 250W SON wellglass fittings, 45 luminaires have been used to provide 346lx on the ground, delivering a uniformity of 0.71. However, the inefficiency of the SON wellglass means this scheme has a high total power consumption of 12.4kW.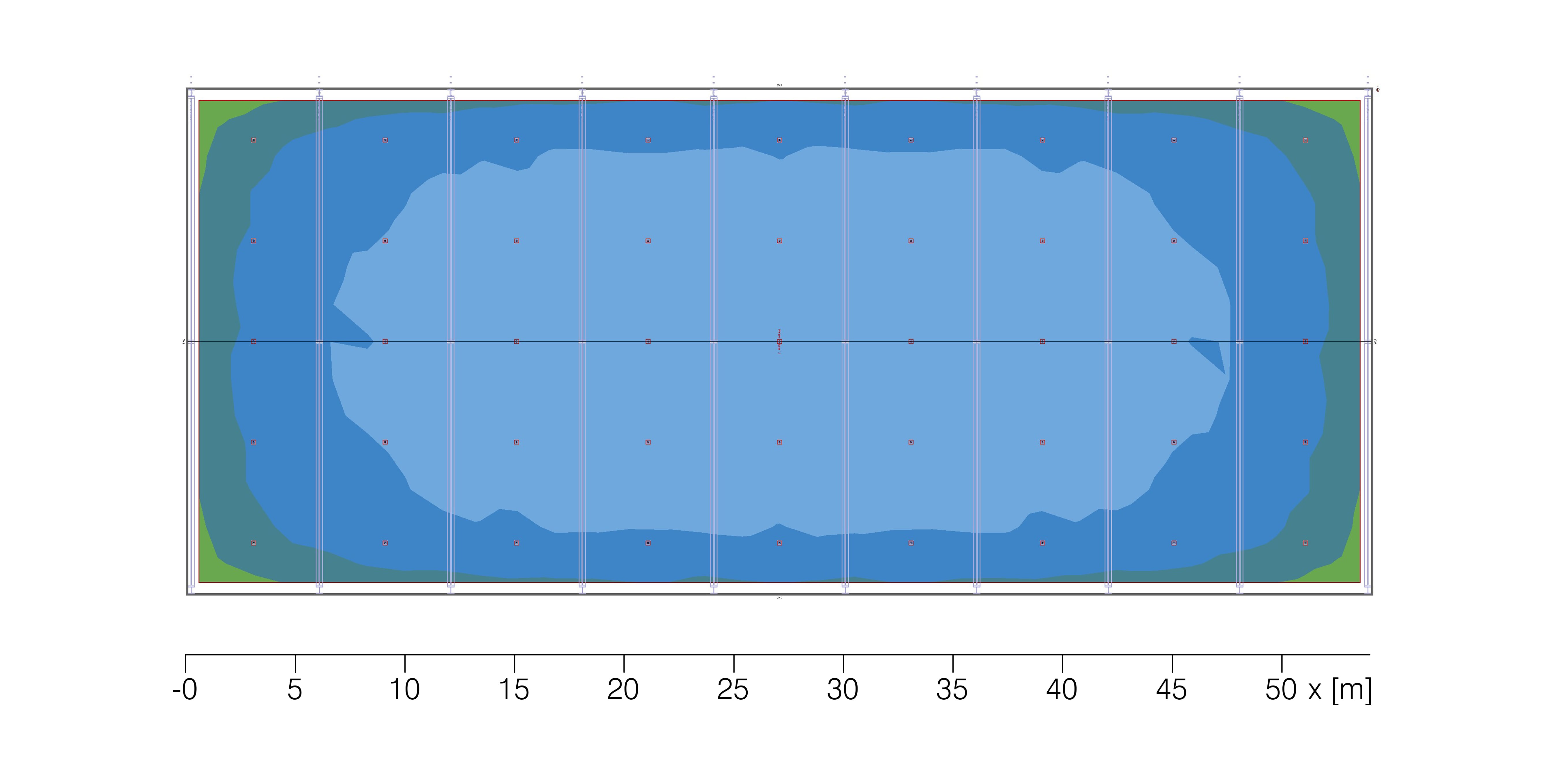 The design of a wellglass means that a lot of light is dispersed out to the sides of the unit; not necessarily where it's needed, meaning a lot of light is wasted.
We'll now compare these results with two further schemes using Raytec's LED bay lighting solutions. For each of the comparisons, the same warehouse dimensions are used, as well as the same 6m mounting height.
Scheme B – SPARTAN Mid Power Bay Zone 2 
In this second example, we're using Raytec's 12,500lm Mid Power LED Bay lighting as a point-for-point replacement for the 250W SON wellglass lamp. This means the same number of fittings (45 luminaires) and formation (9 rows of 5 luminaires) is used.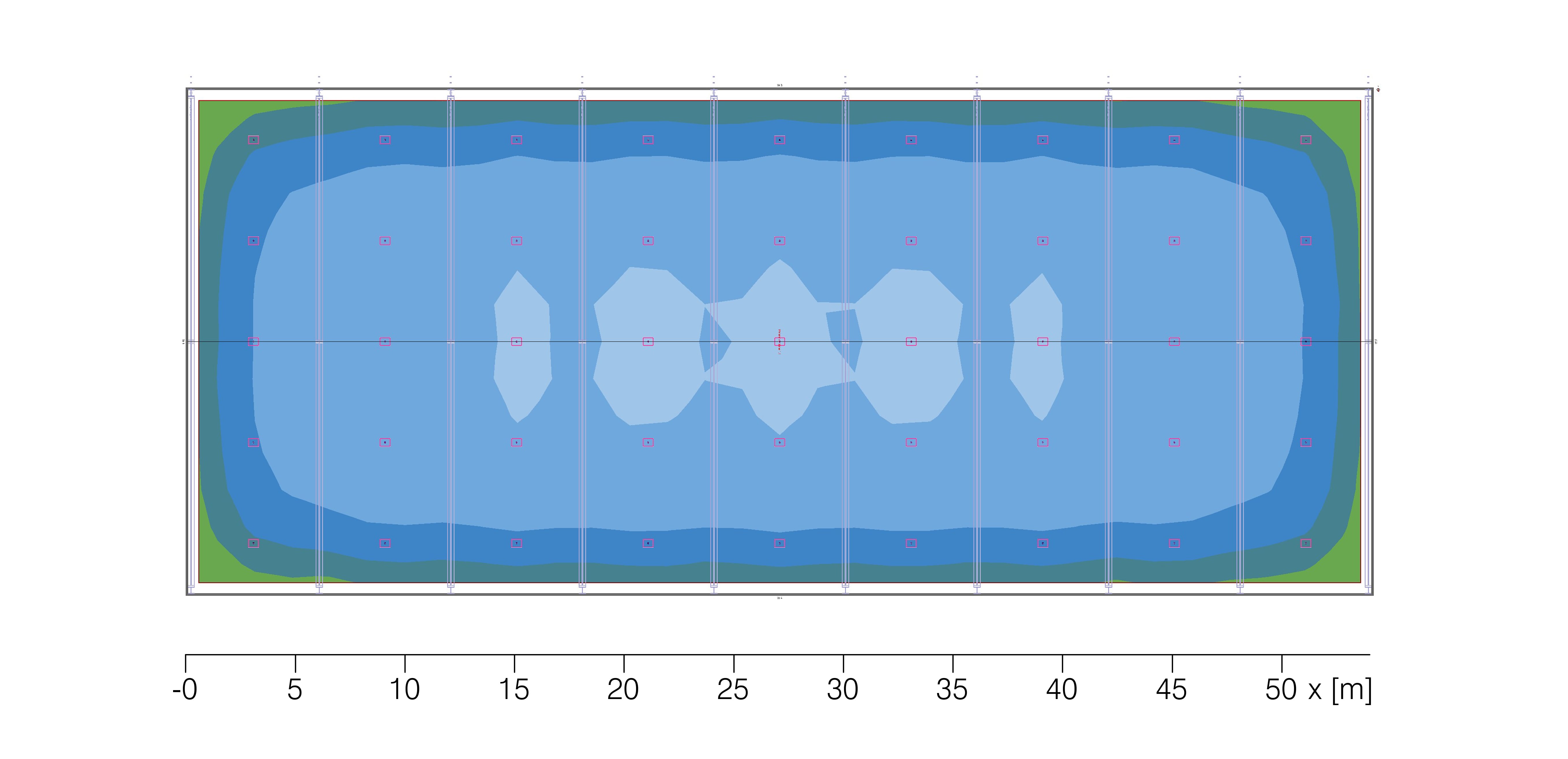 This solution achieves a higher lux level of 359lx, while maintaining a good uniformity of 0.60. Critically though, the Mid Power Bay can deliver significant energy savings. The total power consumption has dropped to 4.5kW – a reduction of over 63%.
Let's look at the numbers in more detail and see what this reduction in consumption equates to in terms of actual cost savings. These calculations assume an energy price of 20.5p/kWh* and that the light is switched on for 10 hours per day.
*Average Industrial business energy rate not including VAT taken from Department for Business, Energy and Industrial Strategy.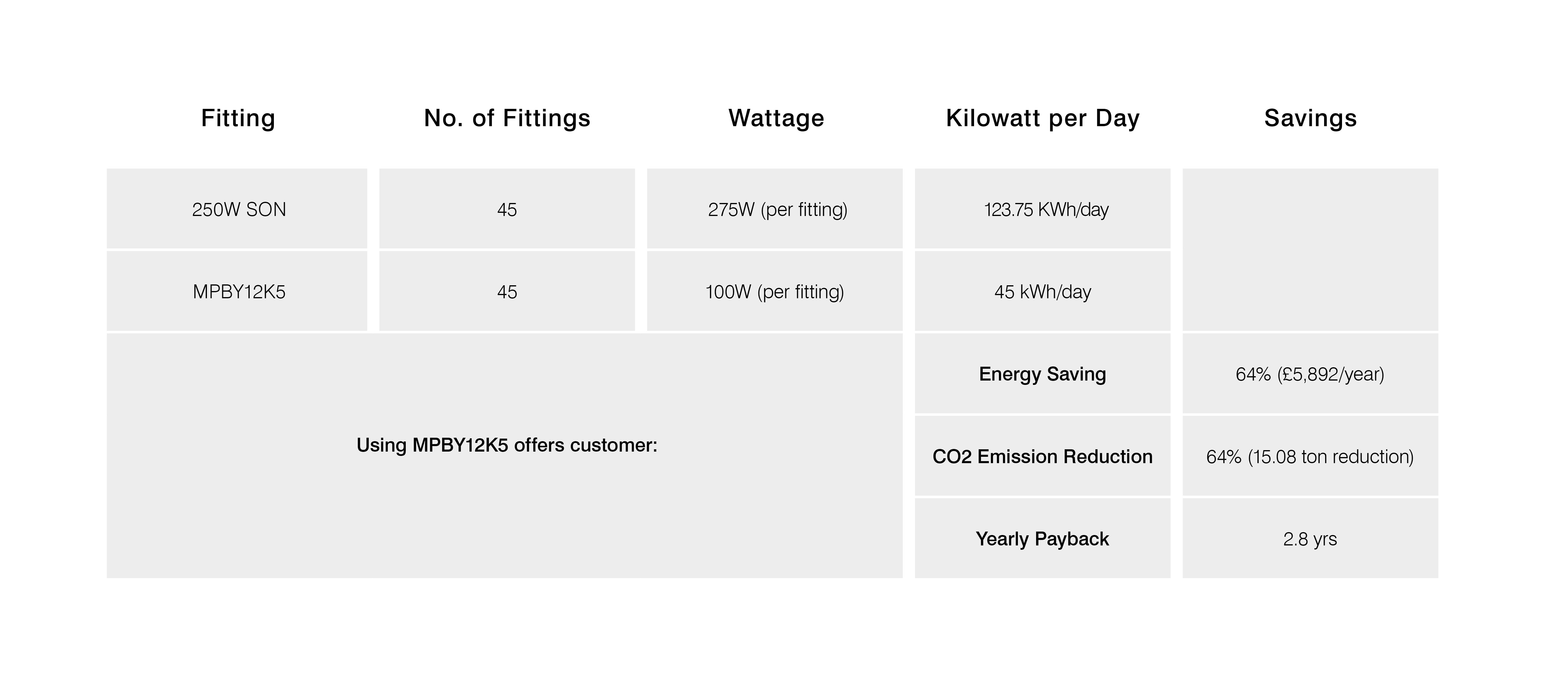 Using the 12,500lm SPARTAN Mid Power Bay delivers an energy saving of 64% (£5,892) a year. Also note that using a luminaire with a more efficient light output reduces the CO2 emissions of the lighting scheme by 15.08ton, offering greatly improved environmental benefits.
The directional nature of an LED light source, combined with Raytec's choice of optics and beam angles, ensures the light can be targeted exactly where needed to provide the most efficient light scheme.
Scheme C – Linear HO WL168 Zone 2 
Our third example offers an alternative solution to the traditional bay style fitting and utilises Raytec's new Linear High Output luminaires. In this scenario, the target lux level is achieved using 9 fewer fittings than in scheme A and B. Using 36 luminaires, with a 9×4 luminaire layout, achieves 333lx on the ground while still delivering a uniformity of 0.62.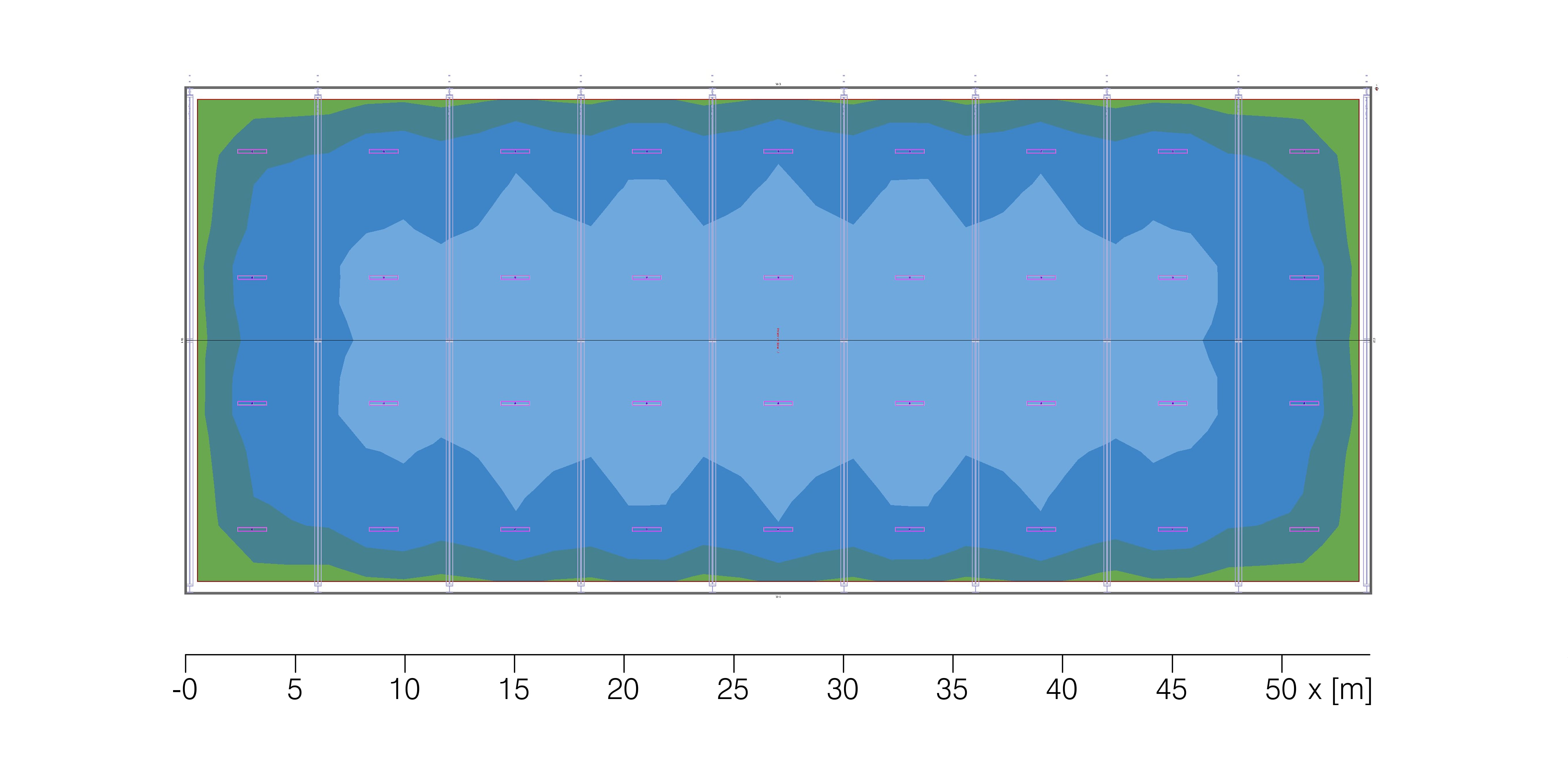 With a total energy consumption of 3.5kW, even greater savings can be achieved compared to the 250W SON solution. With fewer luminaires required to achieve the target lux levels, SPARTAN Linear High Output also helps to reduce the initial capital expenditure, thanks to lower procurement and installation costs.
For larger installations, the extent of these savings will grow exponentially and help end-users to significantly reduce both their initial outlay and ongoing running costs.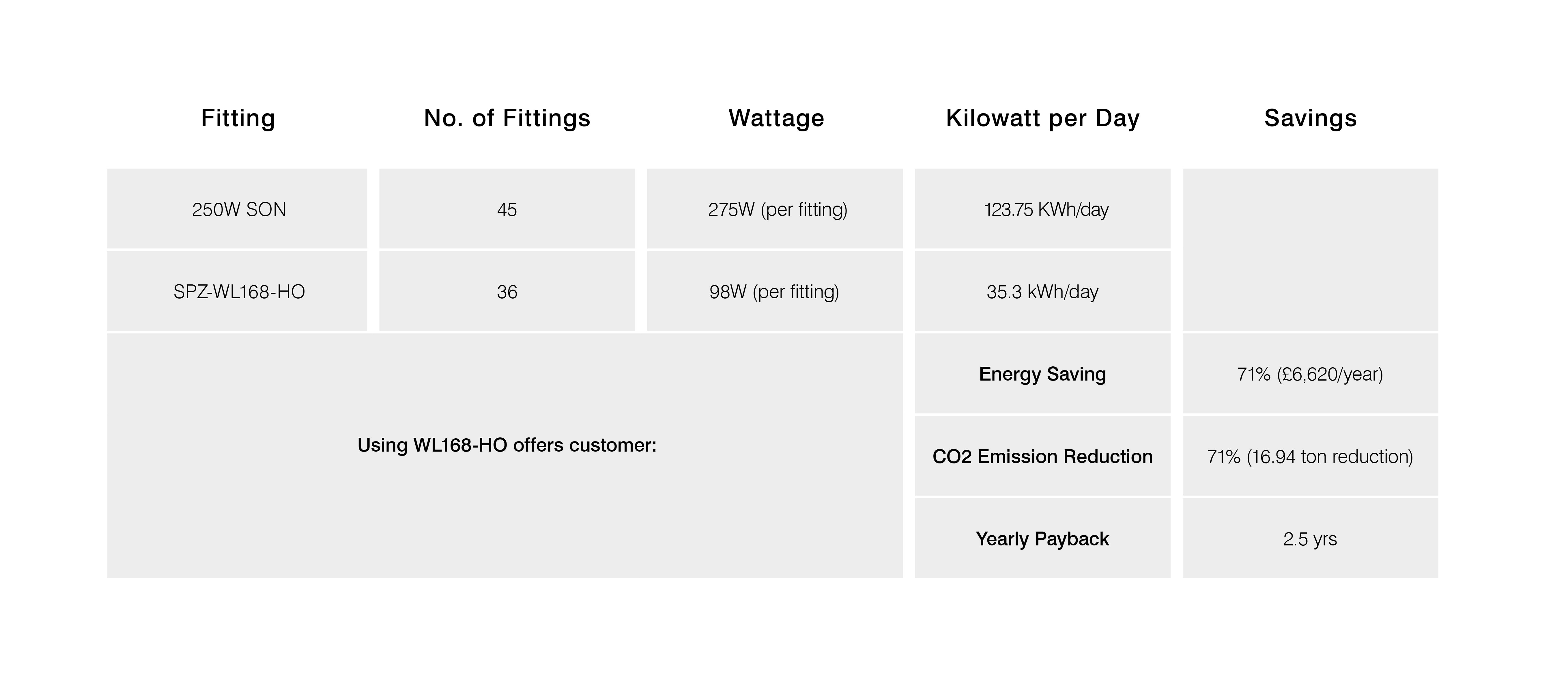 Using SPARTAN Linear High Output reduces energy consumption by 71% (£6,620) per year and provides a huge 16.94ton reduction in CO2 emissions.
Conclusion
Raytec offers a comprehensive range of LED bay lighting solutions for hazardous and industrial applications, which can provide customers with significant capital expenditure and energy savings.
The new Linear High Output breaks the mould of conventional bay-style fittings, but the luminaire provides a compelling solution both in terms of performance and cost-effectiveness.
Don't hesitate to get in contact with us to discuss your requirements, or to utilise our free lighting design service to ensure you achieve the most efficient and cost-saving lighting solution for your application.