Hazardous Area Lighting: LED Linears Compared
Hazardous Area Lighting: LED Linears Compared
Linear luminaires represent the most common light fixtures found in hazardous areas today. Traditionally, Linears used fluorescent technology but more recently the trend has been to replace them with more modern LED luminaires. The benefits of LED over traditional technology are well documented (you can read our previous LED vs Fluorescent White-Paper here) and has allowed luminaires to provide a longer lifetime, reduce maintenance and improve overall performance.
The purpose of this White-Paper is to provide an in-depth comparison of LED Linear solutions. We'll identify the most common design approaches adopted by Ex manufacturers, and highlight the impact they have on end users in relation to cost and day to day operation. By the end, you should have a better understanding of the strengths and weaknesses of the main design approaches and understand the key things to consider when specifying LED linear lighting for hazardous areas.
The design of an LED linear luminaire can generally be categorised in two ways; Boat Style Luminaires – the term 'boat 'refers to luminaires which use the same Glass Reinforced Plastic (GRP) housing as a traditional fluorescent fitting. Their external appearance is generally identical to its fluorescent predecessor, with internal components which are modified or replaced to house LEDs in place of the old fluorescent tubes.
Bespoke Luminaires – these luminaires are built using a custom housing, designed around the LEDs to, in theory, deliver optimum performance. The design of the housing is not constrained by that of an existing fluorescent luminaire.

Figure 1: Boat style luminaires use the same GRP
housing as traditional fluorescent
Figure 2: Bespoke LED luminaires use a custom
housing designed around the LEDs
Before we can establish if either of these design approaches provide a better overall solution, we need to look at the differences between them in more detail. To do so we will address the benefits and drawbacks of each in the context of four key areas;
• Physical design
• Suitability to specific applications
• Installation
• Maintenance
Section A – Boat vs Bespoke
1. Physical Design
With the most obvious difference between the two approaches being the housing of the luminaire, we'll start by reviewing the strengths and limitations of each.
Boat Style Luminaire
A boat style luminaire is designed with a large polycarbonate lens which makes up the entire front section of the luminaire. Designed around fluorescent tubes, this large polycarbonate front was essential to maximising light output – given that the tubes disperse light 360° (i.e. they are not a directional light source). However, removing the fluorescent tubes and replacing them with LEDs (a directional light source), means that such a large front lens is no longer required. For the majority of LED boat style luminaires, the large polycarbonate lens is a design feature which has simply been carried over from the existing fluorescent design.
The drawback of this is twofold;
1. Such a large polycarbonate front makes the luminaire inherently weaker. It is more susceptible to being damaged from impact.
2. A significantly larger gasket is required to seal the unit. This makes the luminaire more susceptible to problems with water ingress and increases the likelihood of issues occurring on the back of any maintenance procedures which are carried out.
Bespoke LED Luminaire
Designed specifically to house the LEDs, a bespoke luminaire can utilise a significantly smaller polycarbonate lens, tailored to the directional nature of the LEDs. Manufacturers are therefore able to design them to be inherently stronger and less susceptible to damage. A bespoke luminaire can use up to 90% less polycarbonate for the front lens when compared to a boat style luminaire.
Less polycarbonate means a smaller gasket can be used. This makes the luminaire less susceptible to issues with water ingress and reduces the chance of complications during maintenance procedures. In hazardous area locations, which are often demanding environments and require robust equipment to be installed, this can be a significant advantage. Section A – Boat vs Bespoke.
1. Physical Design
2. Suitability to Specific Applications
As well as hazardous area locations often being demanding environments, specifying lighting in these applications can also throw up specific challenges based on the conditions in which they are installed. Most commonly for Linear luminaires this includes the presence of chemicals and solvents, as well as exposure to ultraviolet (UV) light. Depending on the materials used, these elements can attack the luminaire' s housing or cause it to degrade over a period of time.
Presence of Chemicals & Solvents
Most hazardous area Linear luminaires contain materials which are susceptible to chemical attack, making them unsuitable for applications where certain chemicals or solvents are present. Typical examples include spray booths using solvent based paints, or other applications which may simply use chemicals as part of a cleaning solution to wash down areas of the site where the luminaires are installed. As mentioned earlier, boat style luminaires tend to use a GRP housing and a large polycarbonate lens; both materials which are susceptible to chemical attack. Although some bespoke luminaires may use an aluminium or steel housing, most will still use a polycarbonate lens.
For specifiers, this significantly restricts the choice of Linears that are available for these types of applications. The suitability of a specific luminaire will of course depend on the application and which chemicals or solvents are present. For bespoke luminaires where the polycarbonate is an issue, some manufacturers may be able to offer an alternative variant fitted with a glass lens specifically for chemical applications.
UV Exposure
Exposure to UV light is common when luminaires are installed in hot, sunny countries, and can cause the housing of some Linear light fixtures to degrade over time. Linears made from GRP are most susceptible. When exposed to UV for long periods, GRP can degrade and become brittle. For boat style luminaires this could cause cracks in the luminaire's housing, or the hinges used for front internal access to snap during maintenance. Issues such as these would render the entire luminaire as useless.
While boat style luminaires exclusively use a GRP housing, some bespoke LED Linears use an aluminium or steel housing; this can overcome many of the problems associated with UV exposure. However, some manufacturers may still opt to design bespoke luminaires using a GRP housing. While these luminaires may provide a low-cost alternative in applications where there is little UV exposure or risk of chemical attack, specifiers and end users should be aware of the limitations which a GRP housing has.
Pro-Tip:
If installing luminaires in a hot climate, with a high level of exposure to sunlight, avoid Linear luminaires made from GRP and specify one made from aluminium or stainless steel.
3. Installation
The process of replacing or upgrading existing fluorescent luminaires to LED, also known as the 'retrofit market', is enormous. With so many fluorescent fittings installed worldwide, and thanks to the benefits of LED over conventional fluorescent technology, there is a real drive to upgrade and replace them. Ease of installation is critical to doing this cost effectively and should be an important consideration when specifying an ex luminaire.
Boat Style Luminaires
With little or no change to the housing, replacing a fluorescent fitting with an LED boat style luminaire is straightforward. While there could be some variance in the fixing centres if switching between manufacturers, generally they tend to be consistent across different luminaires.
Some manufacturers that have an existing range of fluorescent luminaires also offer an upgrade kit. This allows an end user to retain the same housing and fit a new LED module to replace the existing fluorescent tubes (and any corresponding control gear). For manufacturers who have previously sold fluorescent fittings this makes commercial sense – given that selling an upgrade kit is likely to increase their chance of being able to retain business from existing customers who have previously installed their fluorescent products. But is this the fastest, most cost-effective method?
While some kits are easy to replace, it does vary between manufacturers and some are more complicated to fit than others. Carrying out this kind of maintenance work at height, while the luminaire is installed, may also be problematic. End users should review what the process of installing the kit involves; in some cases, it might actually be easier to replace the whole fitting.
Bespoke Luminaire Installation
So long as they are operating within the constraints of the Ex certification, manufacturers effectively have carte blanche when designing a bespoke LED Linear. Unlike the boat style luminaires we have discussed, manufacturers are not constrained by an existing housing, or by the materials that can be used.
However, for retrofit jobs (where existing fluorescent luminaires are being replaced with LED Linears), specifying a light fixture which matches the dimensions and specifications of the existing fluorescent is critical to keeping installation costs down. For this reason, manufacturers should limit any 'design flare' regarding the physical shape and size of the luminaire. Retaining the same dimensions, cable entries and fixing centres as conventional fluorescents will mean an end user can still use the same cables, glands and bracketry. This could make the installation process significantly easier and more cost effective. This is an area we will cover in more detail during Section B of the White-Paper.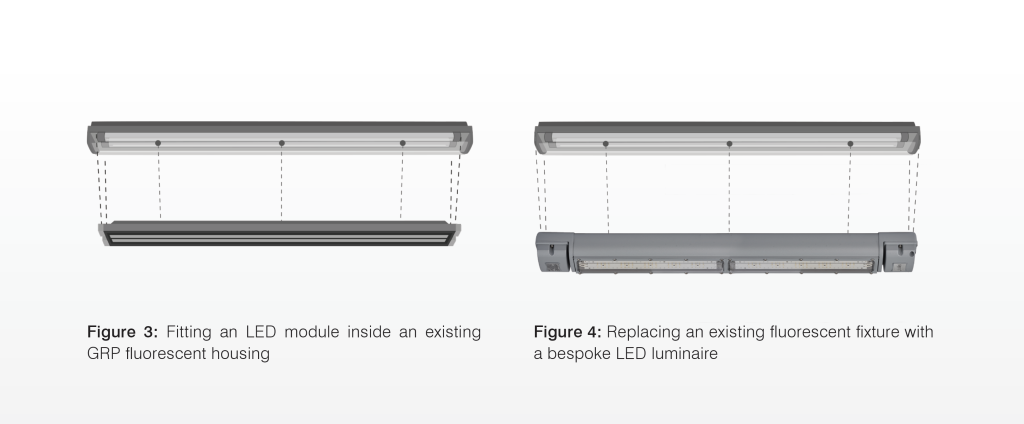 4. Maintenance
Opting for LED will help to reduce the amount of maintenance required to the Linear luminaire over its lifetime, but as with any electrical product, there is always some risk of failure which requires maintenance to be carried out. In hazardous area applications, where the environment can be particularly harsh and challenging, this risk is often amplified. Specifying a luminaire which helps to make maintenance easier c an therefore provide significant costs savings.
Maintenance by Design
The design of a boat style luminaire, and its large polycarbonate front cover (which generally opens on a hinge for internal access), means that all control gear must be housed inside the main body of the luminaire. For maintenance purposes, access to the LED module should be relatively straightforward, but maintenance to other components (such as replacing drivers or emergency batteries) could be more complex if the gear tray must be removed in order to access them. This is especially true when the luminaire is still installed and the person carrying out the maintenance is working at height; it could lead to components, or fixings, falling and being lost or damaged.
Thanks to the greater level of flexibility a manufacturer has when designing a bespoke LED linear, these luminaires are not restricted to locating all control gear within the main body; a bespoke luminaire can be designed to be more maintenance friendly. SPARTAN Linear is a good example of this; with the PSU's housed in the luminaires' end caps, they can be removed using just two M6 bolts and swapped out in just a couple of minutes. The end cap covers are also attached using a small retention clip; meaning there is no risk of the PSU module falling while maintenance is being carried out at height. However, not all bespoke luminaires are necessarily easy to maintain. It will depend on how the luminaire has been designed and whether maintenance has been prioritised during the design phase. This is something we will focus on in Section B.
Micro-Switches
Boat style luminaires tend to feature a micro-switch which turns the lighting module on/off when the housing is opened or closed; all other control gear remains live. The micro-switch is another feature which has been carried over from traditional fluorescent fittings. Because fluorescent tubes needed to be replaced frequently, the micro-switch would make the process of re-lamping faster and easier.
However, with an LED luminaire there is no need for re-lamping. For all intents and purposes this makes a micro-switch on an LED Linear an unnecessary feature with no tangible benefit to the end user. While it could be argued that it has no detrimental impact, it does add unnecessary cost to the build which is likely to be passed on to the customer. In contrast, a bespoke luminaire is designed from the ground up, specifically for the LEDs.
5. Boat vs. Bespoke: A Summary
Having covered ease of maintenance, installation and durability, as well as highlighting some of the strengths and weaknesses of the two main design approaches, we can conclude that;
• Bespoke LED luminaires can be designed from the ground up to get the optimum performance from the LEDs. They are not restricted to using an old style of housing in the same way a boat style luminaire is.
• With the ability to use more robust and durable materials, bespoke LED luminaires can be more suited to demanding applications, such as those with high levels of UV exposure. Boat style luminaires are inherently weaker due to their large polycarbonate front and GRP housing.
• Bespoke luminaires which are designed to retrofit existing fluorescent fittings can be just as easy to install as a boat style luminaire.
• Accessing the internal components of a boat style luminaire can be challenging, whereas a bespoke luminaire, designed with maintenance in mind, makes servicing easier. We can therefore conclude that a bespoke LED Linear provides the best long-term solution for an end user. The main benefits of opting for a boat style luminaire are to the manufacturer; modifying an existing fluorescent fitting being an easy method of developing, certifying and launching an LED luminaire. For end users though, the decision to upgrade to LED is likely to be based around performance and long life, and they should also give consideration towards ease of maintenance, installation, and durability. With this in mind, a bespoke LED linear can offer many advantages.
However, the advantages of a bespoke LED luminaire are only relevant when the manufacturer has given these areas proper consideration during the design process, i.e. so it is easy to install, maintain and uses materials which are suited to demanding environments. Not all are equal. Section B of this White-Paper will therefore focus on how to pick the right bespoke luminaire, and the key features and specifications to look for.
Section B – Choosing the Right Bespoke LED Luminaire
Having compared the different types of luminaires available in Section A, we established that a bespoke LED luminaire provides the best solution for an end user, providing it has been designed in the correct way – this is the crucial bit. Because there are fewer design restrictions, manufacturers can apply their own ideas and interpretations. This has led to a range of bespoke LED Linear solutions on the market which are vastly different. To help you when choosing an LED Linear, in this section we'll focus on three important areas to assess prior to specifying; ease of maintenance, ease of installation, and emergency performance.
1. Maintenance – Go ModularM 
How do you identify whether your bespoke luminaire is easy to maintain or not? It all depends on how much importance a
manufacturer has attributed to future maintenance during the design of the luminaire. In simple terms, a manufacturer can
use one of two main methods when designing a luminaire, and it has a significant impact on how easy it is to maintain.
Sealed for Life
A luminaire which is 'sealed for life' restricts the level of maintenance which can be carried out on-site. The luminaire is
factory sealed (or encapsulated), primarily as a method of protection (as part of the luminaires hazardous area certification).
Once the luminaire is sealed, it cannot be re-opened and internal components cannot be accessed without invalidating
the Ex certification.
Should a problem occur, such as a failed PSU (power supply unit), because the luminaire is sealed there is unlikely to be
anything that on-site engineers can do to rectify the problem. The luminaire must therefore be returned to the manufacturer
for repair. As well as being environmentally irresponsible, the end user could also be left without light which will have
consequences for the safety and security of that area of the site.
Modular Luminaires
Luminaires which are designed with maintenance in mind can be referred to as 'modular'. Components of a modular Ex
luminaire are interchangeable, meaning spare parts can be kept on-site to service the unit. This can be achieved because
the luminaire does not rely on being factory-sealed to achieve its hazardous area rating.
A modular luminaire will allow the engineers on site to change key components, such as the PSU, in a matter of minutes. This allows light to be restored quickly and down-time to be minimised. Ultimately, a luminaire that has been developed with maintenance in mind will reduce long-term costs.
Pro-Tip – Identifying easy maintenance;
• Ensure PSUs, emergency batteries and other serviceable parts can be accessed easily,
quickly, and without the need for specialist tools.
• Ensure spare parts are available from the manufacturer and can be stocked on-site
if requested.
2. Installation – Use A Retrofit
In Section A, we identified that bespoke LED luminaires can be just as easy to install as a boat style luminaire, providing
they have been designed as a retrofit to existing fluorescent luminaires. This means using the same general dimensions,
cable entries and fixing centres. Let's look at these elements in more detail;
• Dimensions – if the new luminaire is the same length as the existing fluorescent fitting, the end user should be able to
utilise existing cables. Specifying a smaller luminaire could mean the existing cable layout is no longer suitable, and
new cable would likely be required throughout the installation. Look for a luminaire which is 600mm/2ft in length when
replacing 2x18W fluorescents, or 1200mm/4ft in length when replacing 2x36W fluorescents.
• Cable Entries – specifying a luminaire with the same sized cable entries will allow the existing cable glands to be
used. Specifying a luminaire with different sized entries will mean the existing glands will no longer be suitable. While
gland reducers or adaptors could help in some cases, it will result in additional expense to the overall installation.
Because entry size can vary between regions, manufacturers should offer the luminaire with a range of different sizes
to suit different applications.
• Fixing Centres – on conventional fluorescent fittings, the fixing centres used to mount the luminaire are generally
consistent across different manufacturers; M8 (or sometimes M6) threaded holes, with a 400mm spacing between
mounting centres for 2x18W fluorescents, and 700mm spacing for 2x36W fluorescents. If the fixing centres of the new
LED fitting match these specifications, the existing bracketry can be used.
Failure to match your new luminaire to any of these three specifications and you could be faced with a sizeable cost to
supply new brackets, cables or glands.
Pro-Tip: To reduce time and cost of installation, a true retrofit solution should use the same
dimensions, fixing centres and gland entries as traditional fluorescent fittings.
Raytec Lighting Design Service 
Our free lighting design service brings any project to life, providing a visual representation of what the final installed lighting solution will look like.
Click here to find out more.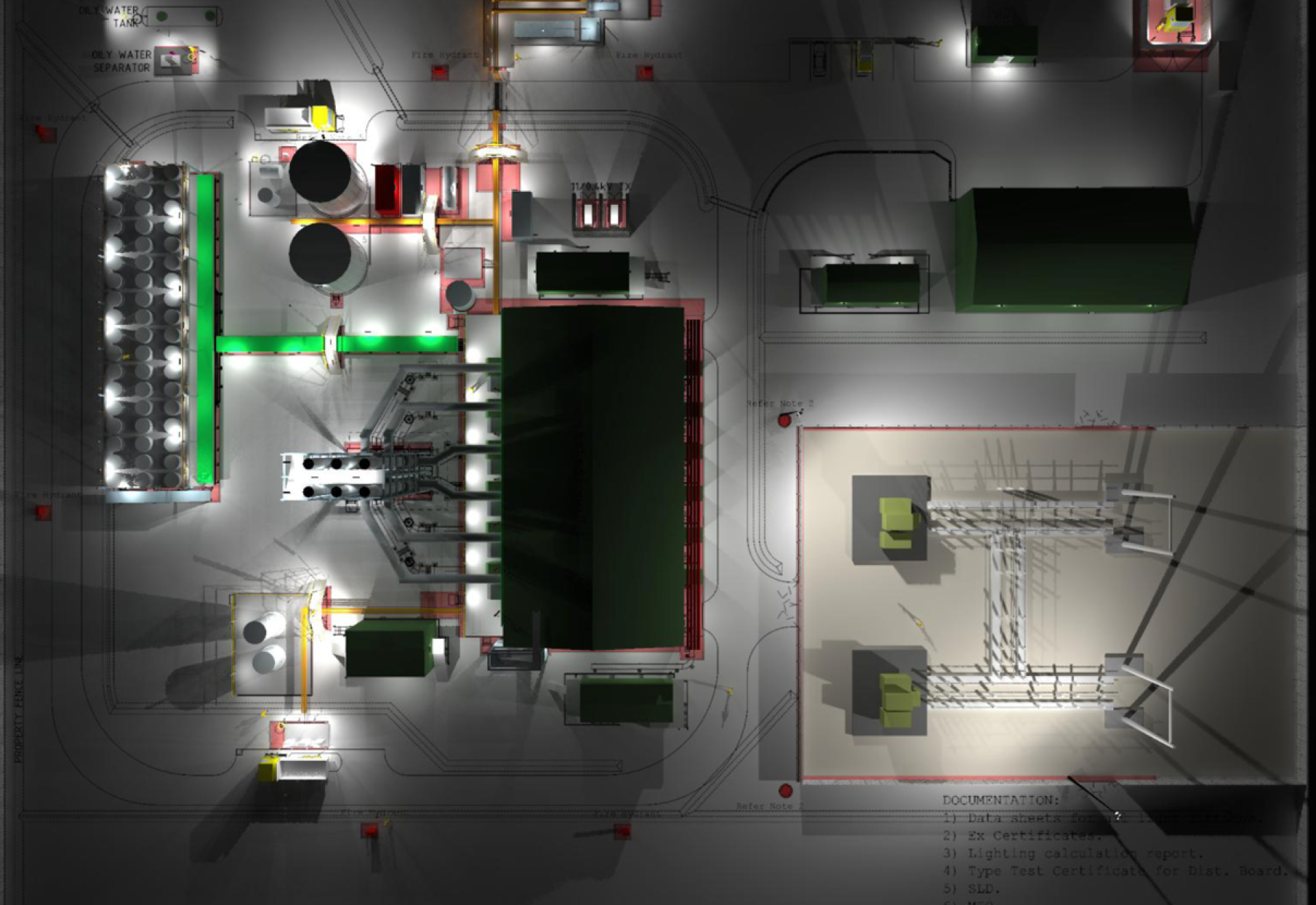 Intelligent Emergency
Another feature to look out for when specifying an emergency luminaire are intelligent systems, such as SPARTAN Intelligent Emergency, which help to increase the ease of inspection and automate te sting procedures.
To operate effectively, an emergency luminaire's battery must be regularly checked and tested to ensure there is no degradation in its capacity. Further conditioning is also required to maintain its optimum performance. SPARTAN Intelligent Emergency luminaires feature an in-built microprocessor which automatically cycle the emergency batteries, checks the health status of the luminaire, and commu nicates the information via an LED indicator.
In contrast, conventional emergency luminaires rely on human intervention for the process of routinely monitoring, checking and testing the luminaire, meaning there is also an associated risk of human error or neglect. If the luminaire is not properly tested
and maintained, there could be serious implications on the performance of the luminaire when an emergency situation arises. This could lead to safety issues on-site. Automating the process, by introducing intelligent emergency luminaires, effectively eliminates this risk; increasing reliability of the emergency network and improving overall site safety. This also means a reduction in the time and cost of maintenance, given the elimination of human inputs to the maintenance process.
Pro-Tip: Intelligent emergency solutions help to improve on-site
safety, while reducing the time and cost associated with inspecting
and testing Ex luminaires.
Summary
To recap, in order to make the most of the benefits which upgrading to LED offers, end users should specify a luminaire which has been designed around the LEDs, using a custom housing which allows performance to be optimised.
However, beyond this end users also need to ensure they are specifying a luminaire which has been designed (from an installation perspective) to easily replace conventional fluorescent fittings, is easy to maintain, and (when required) provides an effective emergency option which can reduce costs and increase safety using intelligent, automated testing procedures. Follow this general rule of thumb when specifying Linear luminaires for your lighting installation, and you'll achieve a solution which delivers the best performance and reduced long terms costs.