Understanding Nameplates for Ex Luminaires
An Ex luminaire's nameplate provides valuable information about the equipment. It allows you to identify the manufacturer, the areas in which it's safe to be used, as well as information about the luminaire's specification, such as input voltage, ingress protection rating and much more.  For installers and end-users, this information is critical to ensuring the luminaire is installed correctly and safety on-site is maintained.
For a manufacturer developing products specifically for hazardous locations, nameplates are a necessity to showcase the latest and appropriate certification standards. It is important that manufacturers keep their nameplates up to date with the correct information. If not, unclear markings can lead to incorrect equipment being purchased and installed on-site. This can be detrimental to the safety of the individuals located there.
Understanding Nameplates
To understand the different information a nameplate tells us, we'll look at an example of the nameplate that would be fitted to Raytec's SPARTAN WL168 Linear luminaire. The look and layout of a nameplate will vary between the manufacturer, however, this is a typical example of the markings you should expect to see from on a luminaire that has been certified for use in a hazardous area.
Raytec Nameplate Example: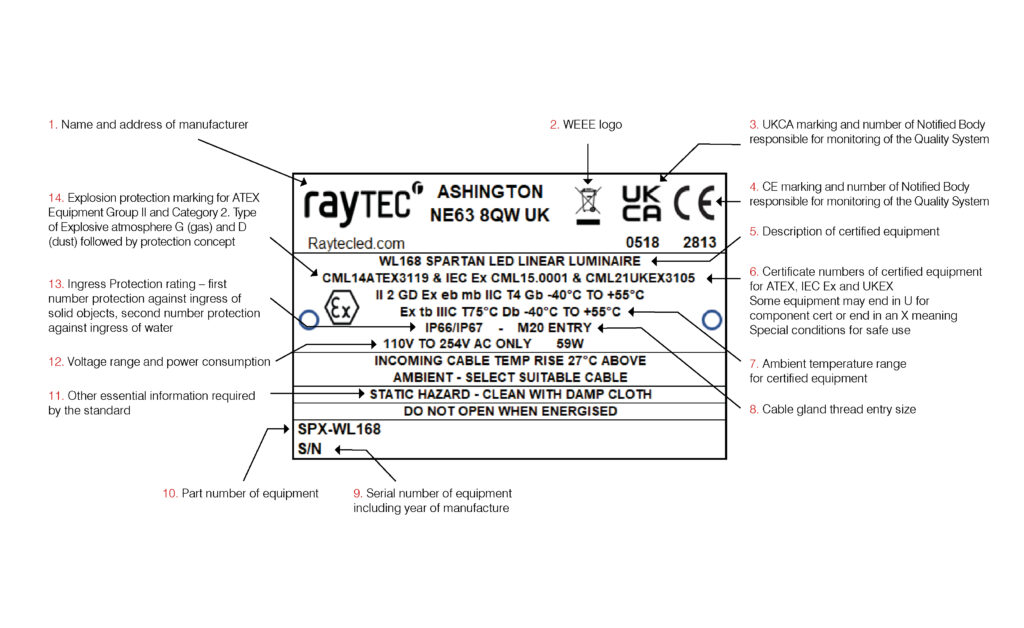 1 – The name and address of the manufacturer, as well as the web address of the manufacturers' website.
2 – WEEE logo – this symbol indicates that the product should not be discarded as unsorted waste but must be sent to separate collection facilities for recovery and recycling. The WEEE marking must appear on any electrical and electronic equipment placed on the EU market.
3, 4 & 14 – Certification symbols – showing that this product is certified to ATEX, IEC EX and UKCA standards. At Raytec, we use a tri-rated nameplate on luminaires which means there will be three certificate numbers included on a product label – ATEX, IEC EX and UKCA. Showcasing each of these certification markings on each Raytec nameplate means the same luminaire can be used worldwide.
5 – Description of certified equipment.
6 – Certificate numbers of certified equipment for ATEX, IEC Ex and UKEX (all certificates should be accessible via the manufacturers website). Look out here an 'X' at the end of the certificate. If this is it means the products have a condition for safe use which the end-user must follow.
7 – Luminaire operating temperature – showing the minimum and maximum temperature.
8 – Cable gland thread entry size.
9 – Serial number of the equipment.
10 – Equipment part number.
11 – Other essential information required by the standard, such as cleaning procedure.
12– Voltage range and consumption.
13 – Ingress protection rating.
Nameplate Material
The nameplate is arguably the most critical component of a hazardous area product. It is extremely important that the information and markings contained on the nameplate remain legible for the lifetime of the product. The manufacturer should therefore give careful consideration to the materials from which the nameplate is designed. Let's touch on this briefly.
Whilst all manufacturers must keep their nameplates up to date, many produce them using materials that are unable to withstand the harsh environments to which they are exposed. Most commonly, nameplates found on Ex luminaires consist of a printed, self-adhesive, polyester label. While these self-adhesive nameplates are adequate for many indoor applications, Ex environments are often harsh and demanding, with exposure to extremes in temperatures, humidity, and corrosive atmospheres. These conditions could lead to the information on a label being weathered or erased, to the point where it cannot be read. Or worse, it could even cause the label itself to detach from the product, leaving the luminaire unmarked and untraceable.
A more robust method is to use metal nameplates where the information is engraved, ensuring it remains legible throughout the luminaire's lifetime. At Raytec, we utilise this method, where all our SPARTAN Ex luminaires are fitted with a laser-engraved, stainless steel certification nameplate which is riveted to the luminaire so it cannot become detached. This allows our nameplates to withstand the harshest of environments.
If you have any questions about nameplates, certification, or hazardous area lighting in general, call us on +44 (0) 1670 520 055, or email Raytec Global at sales@raytecled.com.