Creating Dynamic Lighting for Network Systems
With the growth of IP surveillance, the ability to remotely control and program cameras via a network infrastructure has become
industry standard. Consequently, the need for dedicated network lighting is becoming increasingly important for all high security
installations, to ensure full dynamic control over site security 24/7. This, and the fact all cameras need light to produce their best pictures, has seen the development of IP addressable network illumination.
Security professionals can now control their lighting from anywhere on the network in the same way they control their IP cameras,
either directly through a web interface or via other network devices using VMS/BMS, HTTP commands and camera applications.
Lighting can now play an increasingly important role in a fully integrated security system, seamlessly operating in conjunction
with other network devices to create a smart system capable of delivering an instant, situation-dependent response for improved
security and safety.
In this paper we provide examples of how to utilise Raytec VARIO IP network illuminators for:
1) Instant Live Control
2) Advanced Lighting Settings
3) Full System Integration and Automatic Operation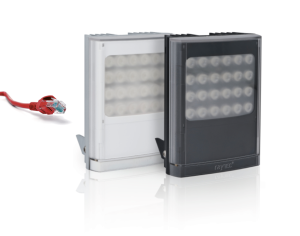 1: Instant Live Control
Integrated Web Interface
Raytec VARIO IP network illuminators have an integrated web interface to provide direct control over the illuminator. This allows
easy, simple set-up and configuration from anywhere on the network. It also allows an operator to take direct control over individual illuminators or groups of illuminators to respond to events on site in real time, adjusting the illuminator for the best
performance.
Used in this way, lighting can be instantly adjusted to deliver the best CCTV images at any time, or to respond to operational
changes on site. And in the case of visible white-light illumination, it can also be utilised as a highly effective deterrent. Network lighting also makes the final stages of commissioning the installation and ongoing maintenance much easier. Rather than making final adjustment to illuminator settings in situ, often up a ladder or lift, installers now have quick access to the lighting at any time using a computer. This reduces visits to site and minimises labour time and costs.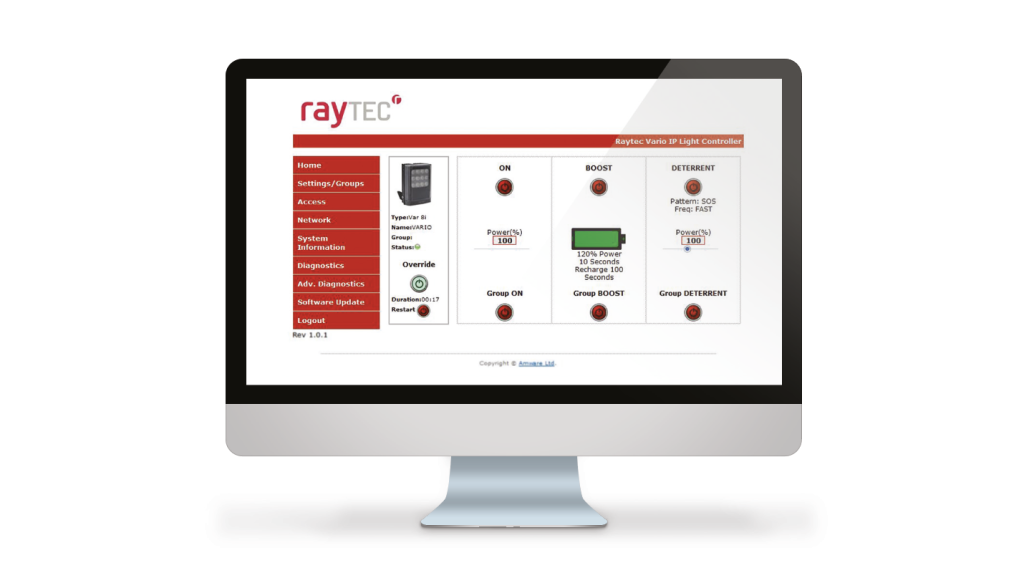 Web Interface Features
• Quick access home screen for operator control and instant response to live events
• Instant control of individual or group of lights
• Basic settings: power on/off, boost and deterrent lighting
• User defined advanced settings including: timers, deterrent settings, photocell sensitivity settings, selectable external
telemetry input, soft start, network settings, setting up lamp names /group names
• Diagnostics for instant feedback on the status of each light
• Fully password protected with separate user and administrator
Quick Access Home Page for Instant Control

Operators can easily open the web interface of any illuminator on the network via the Raytec discovery application. To take instant control over the lighting via the web interface operators can press the 'override button' on the quick access home page, allowing 30 minutes of live control before the system reverts to automatic settings.
Instant control offers users the opportunity to:
1) Adjust the power of an individual illuminator or group of illuminators
2) Short term boost the power of an illuminator or group of illuminators by 20%
3) Put an illuminator or group of illuminators into deterrent mode
Power Adjust
Following an alarm, a group of illuminators can be turned ON in a key area of concern with the option to adjust the power output
to achieve the best image quality for effective monitoring purposes. For example, light levels may be remotely increased to more easily view a subject in the distance and accurately identify them.
Similarly if a subject is located in the foreground, then light levels can be remotely decreased on demand for better facial
recognition and to avoid over exposure from too much illumination. With network illuminators the light levels can be tailored live
to optimise performance at all times.

Boost
In addition, the boost function can also be selected to provide 120% power for a short period of time, to provide additional illumination on scene for increased image detail or to assist with camera focussing.
Deterrent
Furthermore, if an operator does not recognise the subject, and if using visible White-Light illumination, they can use the live
deterrent function to put a single illuminator or a group of illuminators into a warning flashing mode, to deter an intrusion on site.

2: Advanced Lighting Settings
Permanent and advanced lighting settings can also be programmed into the VARIO IP web interface settings/groups page and advanced settings page, including all of the above settings and more.
Settings/Groups Page on Web-Interface
Operating Modes
There are three operating modes on the illuminator, accessible via the web interface settings/groups page.
Local: Illuminator controlled by its own photocell and telemetry input
VMS: Illuminator responds to commands originated in the VMS/BMS environment
HTTP: Illuminator can respond to direct HTTP commands from any other device on the network including VMS, camera etc.
Group Control
Groups of illuminators can also be created via the settings/ groups page. By putting the illuminators in defined groups, such as fence lines, means that large sites can be easily managed with one illuminator triggering all of the others in its group.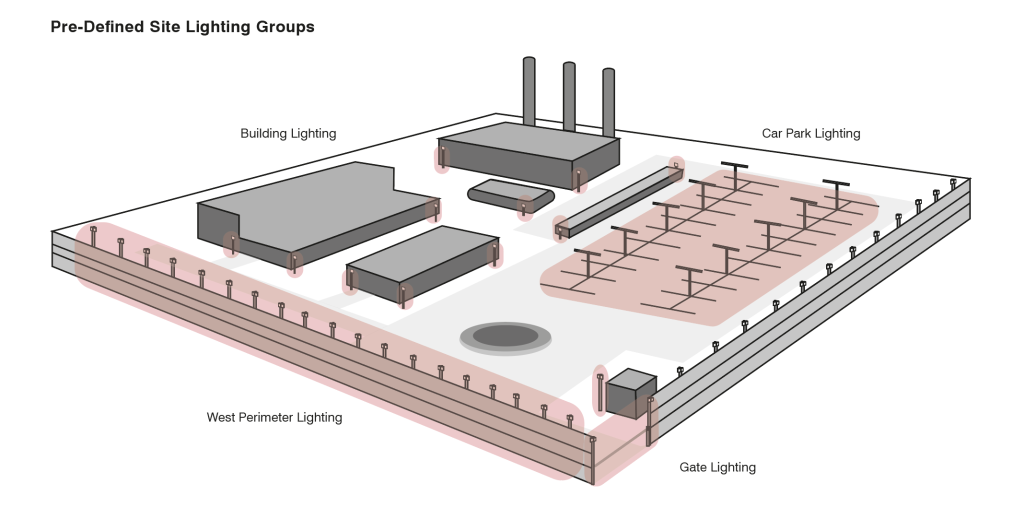 Photocell Control
The way that the lights are turned on can be altered at any time. Lighting can be photocell controlled to turn on automatically
during the hours of darkness and turn off when it becomes light again. The lighting system can be programmed to remain on all night once darkness is detected or remain on for a defined period of time; a useful feature particularly when using white light as safety lighting to allow employees to leave a building after work but not illuminating the area all night when no employees are on site. This feature can be used to conserve energy and running costs.
In addition, the time of day that the lights turn on can also be changed at any time. The illuminator's perception of "darkness" can be set to a lower or higher level as desired by altering the photocell sensitivity, and hence causing the lighting to turn on sooner or later (photocell sensitivity adjust can accessed on the advanced settings page).
Externally Triggered Lighting
Lighting can also be triggered from an external device. Once connected via the illuminator's telemetry input, an external device such as a camera or PIR detector can activate a single illuminator or group of illuminators upon detection of a subject for example. This is highly effective when creating a dynamic, advanced lighting system designed to provide a visible response to activity on site. Similar to the photocell control, lighting can be set to remain active for the duration of the external input or set to remain on for a specific length of time.

The illuminator's external input can be activated by a volt free or TTL input from another device to activate an illuminator or group of illuminators.
The external output is used to monitor the status of the illuminator's photocell and/or external input and can be configured to provide an output according to the user requirements. E.g. when the photocell becomes active and the illuminator turns on (upon detecting darkness), the illuminator can send an output to trigger cameras into night mode – or upon the illuminator turning on via external input (e.g. upon camera software detecting motion), it can send an output to activate a non-network device – e.g. a gate or a siren alarm.
3: Full System Integration and Automatic Operation
Lighting should not be a static, stand-alone entity when it comes to designing high security systems. A good system uses lighting as an interactive tool, fully integrated with other technologies on site to produce a highly responsive and effective system 24/7. Now with the development of network illuminators, this is even easier to achieve.
Network illuminators can be triggered by alarms from network devices including cameras, detectors, video analytics or another network device to create a dynamic system which is instantly and automatically responsive to activity on site. Used on demand, illumination is highly effective at detecting and deterring crime and also allows systems to use lighting only when needed to reduce running costs and environmental impact. The same illuminator can also provide a safe and well lit area for pedestrians or workers.
Scenario A: Event driven Intelligent Activation
Network lighting can be used to deliver smart lighting systems that are pre-programmed to automatically respond to "events".
A site can be illuminated to a lower light level (e.g. 20%) using the photocell to turn on an individual illuminator or a group of illuminators on when it becomes dark and providing enough illumination to enable acceptable pictures and video analytics. It can then be configured to be automatically boosted to 100% light power on event, triggered via an external device input for a pre-determined period of time.
Automatic Lighting Boost Triggered via Camera Motion Detection
For example, car park lighting can be triggered on or boosted to full power via camera motion detection software when a car approaches a gate or via a trigger from the sensor on the barrier, providing lighting for general illumination purposes.
This approach can be used with Infra-Red, White-Light, or both; for example IR used to covertly survey the scene during darkness and visible white-light triggered on alarm. Or, in the same way that visible White-Light illumination can be triggered on demand, Infra-Red can be set to an 'off' position and triggered 'on' only in the case of a site event in conjunction with camera recording, to provide illumination to generate night time surveillance footage only when needed. This technique of using lighting on demand offers significant energy and cost savings by only applying the light where and when it is needed. Each external trigger can be used to trigger one light or a whole group of lights and a group of lights can have one
external trigger, or many external triggers.
Automatic Deterrent 'Flashing' Lighting Triggered via Fence line Sensor
For example, fence line sensors detecting a person attempting to breach the perimeter can automatically trigger and (if required) flash the section of perimeter lighting and hence provide a powerful visual deterrent.

In addition, the frequency of the deterrent can be defined – e.g. how fast or slow, and the type of lighting pattern e.g. slow wave
or an SOS style lighting response; along with all other settings such as the duration of time the illuminator(s) will remain flashing
in deterrent mode.
Scenario B: Event Driven Lighting Deactivation
Similarly to lighting being activated on demand, lighting can also be deactivated on demand. A group of visible White-Light illuminators e.g. car park lights, could be photocell activated to turn on during the hours of darkness. Operated in conjunction with video management analytics, the camera or VMS system could send an input to the master illuminator when the last car leaves the compound to turn the lights off, or reduce the light output to a lower percentage. This approach is often used to conserve energy and reduce running costs. Any individual light or group of lights can be overridden and activated live at any point during an 'off phase' in the event of activity on site.
Full installation instructions are available to assist set-up and configuration for all Raytec VARIO IP network illuminators – visit www.rayteccctv.com to download.
Lighting for the Future
The future of lighting is evolving and moving towards being even smarter and more responsive. There has been a steady increase in the number of installations exploiting the benefits and many advantages of intelligent illumination. Higher levels of security derived from using lighting in conjunction with other technologies onsite, have played a major role in this. Moreover, their cost effectiveness and minimal environmental impact have also made network lighting a popular choice for high security
CCTV.
Dynamic lighting which is instantly responsive to activity on site is becoming increasingly important for all high security
installations, and is something that we can expect to see a lot more of in the near future. Raytec's range of VARIO IP Network Illuminators has won an IFSEC 'Best Product Award', a Security Essen 'Technology Innovation Award' and an Inter-traffic China Product Innovation Award. It has since been collecting accolades from all around the world including the ISC West product awards (USA), GIT security awards (Germany), and Lux Live awards and the PSI Premier Awards (both UK), to name a few.
VARIO IP is the first lighting range to be fully integrated with a wide variety of network devices and platforms, allowing for the smart and easy use of lighting in conjunction with your whole your security system. VARIO IP is most recently integrated with
Avigilon and Axis ACAP camera platforms, for direct lighting and camera communications and instant lighting response via camera events. VARIO IP also integrates with a variety of VMS systems including Milestone and Mirasys. In addition VARIO IP offers an API to seamlessly integrate and operate VARIO IP within your specific platform.
The development of network illumination paves the way for even more power and flexibility at your fingertips to control your lighting to your exact specification and Raytec is dedicated to continuing the evolution of lighting in the security industry.
Pro-Tip Higher levels of security can
be achieved from using lighting in
conjunction with other technologies
on-site.
For more information on Raytec network illuminators and technology integrations, please visit www.rayteccctv.com