UKCA: Your Questions Answered
UKCA is a new product marking which affects anyone buying or selling goods in the UK. In this article, we answer some of the common questions we've received about UKCA over recent months and put them in the context of the hazardous area industry.
What is UKCA?
UKCA stands for the 'United Kingdom Conformity Assessment' and was introduced following the UK's exit from the EU. The UKCA mark is used to declare a product confirms to the applicable UK legislation.
In most cases the UKCA mark must be placed on the goods themselves and replaces the CE mark for products being placed on the market in Great Britain. UKCA covers a broad range of products, not just lighting.
Is ATEX certification still valid?
As part of the UKCA changes, the ATEX directive (2014/34/EU) is being replaced by a new UK Ex scheme (SI 2016 No.1107) for products being placed on the market in Great Britain. This means manufacturers must make some changes to the way their products are certified in order to be compliant with the new Ex scheme.
Is the UKCA mark required straight away?
The UKCA mark has been available for use since 01 Jan 2021. While there is a period of grace until 01 Jan 2022 (where ATEX approved products can continue to be sold into the UK providing the mandatory third party assessment has been carried out by an EU notified body), the advice is that products being placed on the GB market should carry the UKCA mark 'as soon as possible'.
We also anticipate many end users will begin to insist that products must conform to the new UKCA certification before it becomes mandatory.
When will the use of the UKCA mark become mandatory?
From the 01 Jan 2022. After this point, products placed on the GB market must carry the UKCA mark and be compliant with the UK Ex scheme. ATEX and CE marking will no longer be required or accepted.
These rules apply in England, Scotland, and Wales with a separate requirement in Northern Ireland.
Product being 'placed on the market' refers to when it is first sold by the manufacturer, not necessarily when it reaches the end user.
Key dates: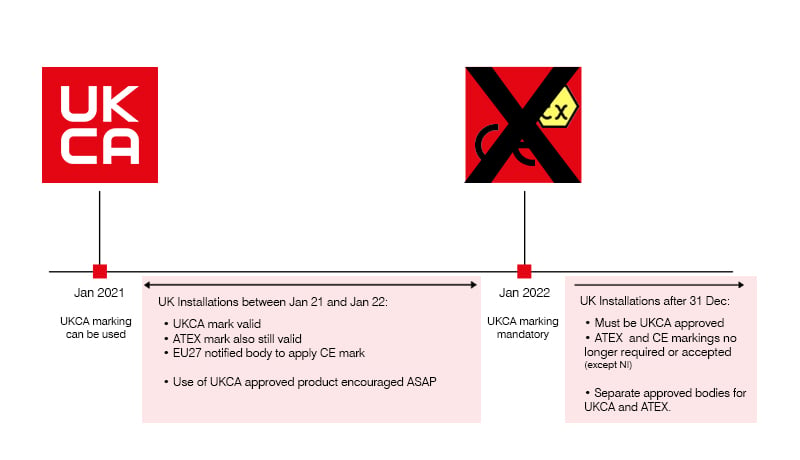 Does UKCA affect me if I'm outside the UK?
If you're not in the UK, and you're purchasing hazardous area lighting for use in an EU country, the changes set out above do not apply to you. The products will still require the CE and ATEX mark and do not need to be marked with UKCA.
However, if you're purchasing directly from a UK manufacturer there are additional factors to consider. As the UK is effectively now a 'third' country outside of the EU, you should be aware that:
The buyer takes on extra responsibility for the imported goods.
You may require additional evidence; to back up compliance and for customs clearance purposes.
This information should all be readily available information if the manufacturer has declared CE.
Will all manufacturers obtain UKCA approval?
It is not a given that all manufacturers will apply or be able to apply the UKCA mark to their products. There are certain factors which may limit a manufacturers ability to obtain UKCA on certain, or all hazardous area products in their range.
Change in Zone 2 standards – in order to obtain UKCA certification, products must be certified to the latest editions of the standards, meaning Zone 2 luminaires must be certified to Ex ec (rather than Ex na). This means testing of Zone 2 luminaires becomes virtually identical to a Zone 1 luminaire, including more stringent impact testing which some luminaires may be unable to comply with.
Cost Barriers – the considerable cost of new certification, and as mentioned above, the fact that some manufacturers may have to update their products in order to comply with the latest standards, means many will have to weigh up the commercial opportunity of obtaining UKCA.
Do Raytec have UKCA approval?
Yes. At Raytec, we work closely with our UK notified body, Eurofins CML, to ensure our hazardous area certificates are constantly updated and tested to the latest edition of the standards. This has allowed us to be one of the first manufacturers to obtain UKCA certificate numbers.
Raytec will include the UKCA mark on all SPARTAN luminaires as standard from 01 Jun 2021. The luminaires will be tri-rated meaning there will be 3 certificate numbers included on each label – ATEX, IEC Ex and UKCA – allowing the same luminaire to be used worldwide.
Example Tri-Rated Nameplate: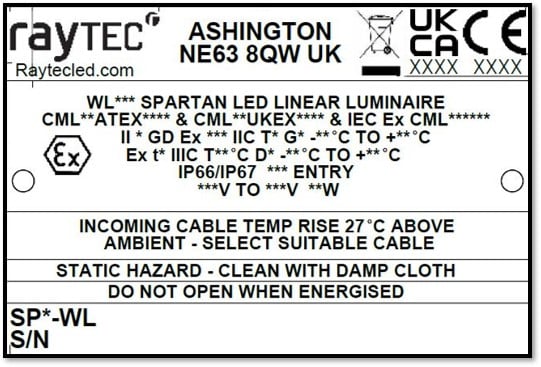 If you have any more questions about UKCA certification, or hazardous area lighting in general, call us on +44 (0) 1670 520 055, or email Raytec Global at sales@raytecled.com or Raytec Americas at ussales@raytecled.com.