Certification Nameplates: Stainless Steel vs. Self-Adhesive
You will find equipment markings on almost any piece of electrical equipment purchased for industrial, commercial, or personal use These can often be overlooked, and if weathered or worn, sometimes impossible to read. However, for hazardous area products the nameplate is arguably the most critical component and must always be easily legible. Using the wrong equipment could result in a critical safety issue.
Equipment is marked so it can be identified, and can usually be found on a dedicated certification nameplate, conveying the luminaire's rating and the types of hazardous area it has been designed and tested for use in. As a minimum, the nameplate should answer the following questions:
Equipment type – what is it?
Who made it and where?
In which hazardous atmosphere/Zone it can be installed?
Operating voltage
IP rating
Ambient temperature
Date of manufacture
Unique, individual serial number (for traceability and record keeping of inspections carried out)
ATEX and IEC Ex certificate numbers – the actual certificates should always be read prior to installation to ensure there are no restrictions in use and to check the certificates are genuine.
Because it's so important that these details remain legible for the lifetime of the product, it's important to consider the materials in which the nameplate is designed from.
Nameplate Design
Although nameplates contain critical information, and the luminaires themselves are heavily certified to ensure they are fit for purpose, the regulations around the design and construction of the nameplates often don't match the reality of the abuse they see in actual use.
Most commonly, nameplates found on Ex luminaires consist of a printed, self-adhesive, polyester label. While these are adequate for many indoor applications, Ex environments are often harsh and demanding, with exposure to extremes in temperatures, humidity and corrosive atmospheres. These kinds of conditions could lead to the information on a standard label being weathered, or erased, to the point where it cannot be read. Or worse, it could even cause the label itself to detach from the product leaving the luminaire unmarked and untraceable.
A more robust method is to use metal nameplates where the information is engraved in, ensuring it remains legible throughout the luminaires lifetime. Fixing the nameplate to the luminaire, rather than using an adhesive label, should also ensure the nameplate does not come detached.
The Raytec Approach
At Raytec, every SPARTAN Ex luminaire is fitted with a laser engraved, stainless-steel, certification nameplate. Starting with the highest quality marine grade 316 stainless steel, each one is laser engraved, while the date of manufacture and unique serial number are also engraved during final production.  This ensures all the vital information will remain legible in even the most challenging conditions.
In terms of ensuring the nameplate remains attached, there's no self-adhesive here; each nameplate is permanently riveted in place during end of line final inspection and testing, making them impossible to remove (except with a hacksaw!).
While being more expensive to manufacture compared to a printed self-adhesive nameplate, both in terms of a material cost and through time in production, at Raytec we feel the value lies in being able to  guarantee the longevity and durability of the nameplate (and the information contained within it), no matter what the environment the luminaire is installed.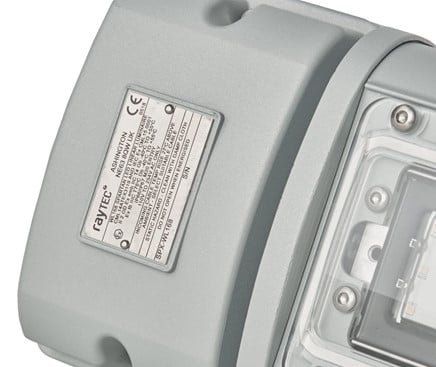 To learn more about Ex lighting, call us on +44 (0) 1670 520 055, or email Raytec Global at sales@raytecled.com or Raytec Americas at ushazsales@raytecled.com.