Raytec Launch 'Intelligent' Emergency Products
Raytec are delighted to launch a new range of 'intelligent' emergency luminaires. Initially available in the Linear and Bulkhead product ranges, the new intelligent emergency products feature an innovative automatic testing function and take safety and performance of emergency luminaires to the next level.
Featuring a microprocessor programmed to automatically cycle the batteries, the new products perform three different testing procedures to ensure the luminaire is operating correctly and the emergency battery system is functioning at it's optimum;
Three charge and discharge cycles are carried out automatically at the point of the initial installation. This is essential in ensuring the battery maintains its full capacity.
Occurring every seven days, this is a shorter test lasting just a few minutes which checks the function of the battery, luminaire and power supply.
A random test occurring every three months, this more rigorously tests the battery's capacity and the luminaires overall condition. Critically, if the battery is not operating at full capacity, the luminaire can also perform self-recovery to restore optimum performance.
Without the luminaire's ability to automate testing, these processes would otherwise have to be carried out manually. As well as using up time and resource, this could also potentially cause disruption to site.
To improve ease of inspection, the new luminaires communicate the current health of the luminaire via a tri-colour LED indicator. This system communicates when the unit is going through one of the testing procedures and highlights the health of the luminaire: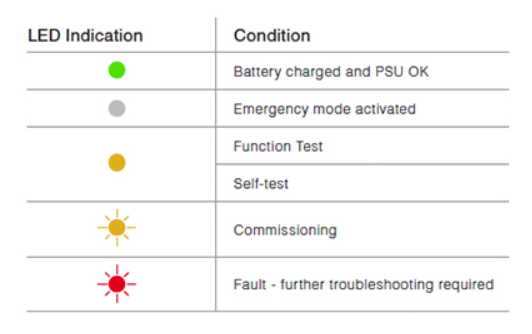 In addition to the new intelligent self-testing functionality, all intelligent emergency luminaires are capable of up to 100% light output in emergency mode as well as being exceptionally easy to maintain thanks to a unique modular design which makes access easy.
While the new intelligent emergency products will initially be introduced to the Linear and Bulkhead product ranges, the Flood range will also be upgraded to the new intelligent system later in the year. The new products are available to order now, while the existing emergency products will still be available initially to satisfy any ongoing requirements.