SPARTAN High Power Flood & Bay Lights in Action
Raytec are pleased to launch two of our most powerful ranges of Ex LED luminaires yet – the SPARTAN High Power Floodlights and SPARTAN High Power Bay Lights. Incorporating the same long life and maintenance friendly technology as Raytec's core SPARTAN products, these two new ranges are designed to deliver lighting into much bigger and higher areas.
Here are some practical examples of the new SPARTAN Flood and Bay luminaires serving a range of Hazardous Area applications!
High Power Flood: Off Shore Life Boat Stations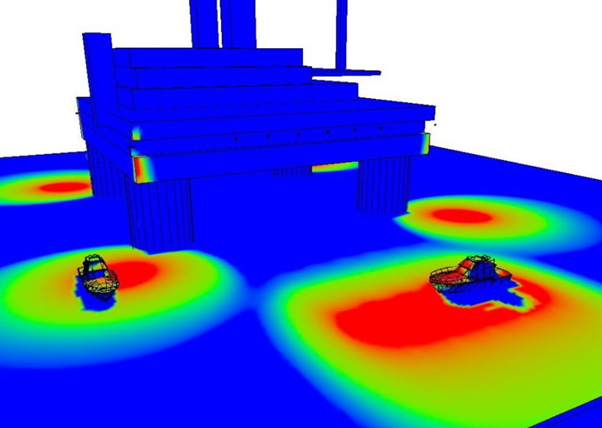 We recently designed a lighting scheme using SPARTAN High Power Floodlights for the life boat drop areas of an offshore rig. The requirement was to use Zone 1 fittings and achieve 50 lux at sea level from a height of 20m. We needed to illuminate all 4 corners of the rig where the lifeboats dropped, as well as lighting the 2 main vessel approach areas which were much further out. Given the mounting height, the size of area to be illuminated, and the lux level required, the High Power SPARTAN Floodlight was considered the best solution.
Providing up to 23,000 delivered lumens in the Zone 1 variant, we specified a lighting output angle of 60×60° for the boat drop areas and a much tighter beam of 30×30° to punch out to the distance required for the vessel approaches. The directional nature of the High Power Flood LEDs along with the dedicated stirrup bracket allowed us to precisely tilt and position the lighting into the required space. This also helped us deliver the maximum amount of light where it was most needed, easily achieving the required lux level with next to no upward light spill.
This type of application also typically requires emergency backup lighting. Other smaller emergency luminaires from Raytec were specified alongside the High Power Floodlights to provide 20 lux of safety lighting – running at 100% light output on battery power in the case of a mains failure.
High Power Flood: Fuel Depot
Another Ex lighting specification has seen the SPARTAN High Power Flood luminaires used to deliver high lux levels to improve operations on an oil fuel depot. Encompassing 2 pumping platforms, multiple task areas, rescue areas, and walkways, the fuel depot needed to achieve 100 lux during normal operational hours.
The Zone 1 variants of the SPARTAN High Power LED Floodlights were deployed to replace old sodium luminaires on the main platforms – this time using a wide 90×90° beam angle to cover a large ground area. They not only delivered powerful lighting to meet the lux level required, but did so using far fewer luminaires. Each High Power Floodlight is to be column mounted so the fact that all SPARTAN Flood PSUs can be removed from the luminaire allows the installation team to keep the PSU at ground level – meaning that maintenance and servicing can be carried out much more easily and quickly.
Along with Raytec LED Linear fittings replacing old fluorescent lighting on the walkways, and Raytec Bulkheads providing low level emergency lighting throughout the site, the whole new scheme is set to provide a much more reliable, long life and vibration resistant lighting solution – that is also more energy and cost efficient to run.
High Power Bay: Aircraft Hanger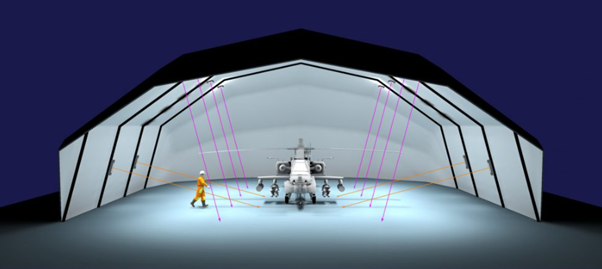 In a typical bay lighting project, SPARTAN High Power Bay units have been designed into multiple Helicopter Hangers to provide powerful ceiling mounted illumination. The requirement was for Zone 1 fittings to achieve 300 lux on the task area from 8m high.
Using fewer luminaires was an important design factor in this application which meant each luminaire had to deliver as much light as possible. We were restricted in where the luminaires could be mounted, so using a smaller number of units with a wide 90×90° beam angle meant that over 350 lux could be achieved while maintaining good uniformity. In addition, the crisp, cool-white LED colour temperate ensures excellent visibility. The convenient ceiling mount bracket is also perfectly compatible with a wide range of mounting configurations.
Raytec LED Linear fittings with battery backup were also wall mounted at 2m high to provide 25 lux of lighting in emergency conditions.
High Power Bay: Gin Distillery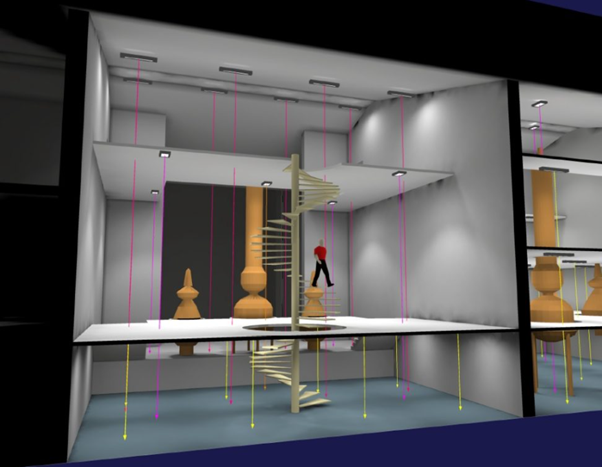 A Gin Distillery with both Zone 1 and Zone 2 requirements has seen SPARTAN High Power Bay luminaires used to illuminate the higher areas of the site both internally and externally.
With a modest mounting height of 6m, we were able to specify bay fittings with a lower lumen output of 15,000 to achieve the required 200 lux during operational hours. Smaller Raytec LED Linear luminaires were used at lower mounting heights below 3-4m.
A mix of Zone 1 and Zone 2 fittings of the linear and bay fittings were used dependent on their proximity to the cylinders. All Raytec Zone 2 luminaires, including the new SPARTAN Bay Light, offer the same external design as a Raytec Zone 1 fitting – providing the highest level of durability from any zone 2 fitting on the market.
For more information and technical specifications contact sales@raytecled.com or explore the SPARTAN High Power Floodlight range and SPARTAN High Power Bay Light range at www.raytecled.com.