How Ex Infra-Red Lighting Benefits Your Ex Camera System
Whether you are monitoring security, production or processes, a high performance video surveillance system is often a top priority for hazardous environments. With a good video surveillance system that can deliver detailed information about a scene, there is less need to expose personnel to dangerous environments. But just like the human eye, cameras need light to see – and they are weakest at night.
This is where professional Ex lighting for cameras becomes essential, and typically that lighting is Infra-Red. Raytec are unique in offering a full portfolio of Infra-Red SPARTAN Ex LED luminaires to support any requirement for video surveillance lighting in hazardous areas.
The Difference Between Lighting for Cameras and Lighting for People
Lighting an area for cameras is very different to lighting an area for people. The key difference is the type of object that each lighting type is designed to illuminate. Typically, surveillance lighting is positioned alongside a camera to illuminate the camera's field of view, and it is concerned with vertical objects (e.g. – a wall, a fence line or people). So lighting for cameras shines out to illuminate the vertical plane. In contrast, general flood lighting, or lighting for people or workers, is concerned with illuminating the ground, or an area around the ground – it shines down to illuminate the horizontal plane.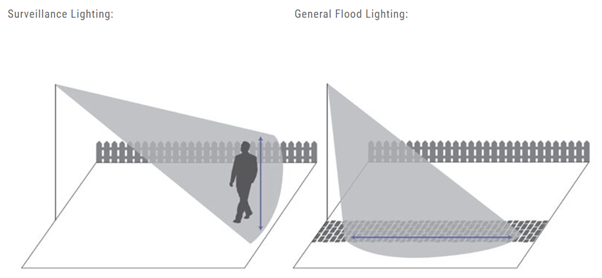 Why Infra-Red?
Infra-Red is the "go-to" lighting for surveillance cameras and allows them to generate black and white images in complete darkness. The advantage of Infra-Red is that it is invisible to the human eye and emits no light pollution, so is often the perfect solution for discrete or covert surveillance applications. It also delivers much greater distances when compared to visible light and so is often the solution of choice for applications that need to monitor scenes over extremely long distances – that's up to 350m from one Raytec SPARTAN IR luminaire!
Optimising IR for Your Ex Camera
To achieve detailed images and accurately monitor your site under darkness, you need to ensure the right quantity and quality of light. For surveillance lighting, this is ultimately achieved by specifying lighting based upon distance and angle, as opposed to looking at lux levels.
It's important that your distance and angle of illumination precisely matches your camera's field of view, to ensure an even distribution of light across the entire width and depth of the scene. If your beam is too narrow, you'll end up with dark edges and an overexposed centre on your video image. However if your beam is too wide, you'll not only waste lighting, but you'll not achieve the distance you require as your beam will be less focused.
SPARTAN IR luminaires provide distances from 35m (115ft) to 350m (1148ft) with a wide variety of angles from 10-120°, in both elliptical and circular beam patterns – offering a solution to match any application.
Furthermore, SPARTAN IR luminaires promise the most even coverage and the highest quality images at all times. They feature Raytec's unique beam shaping system, with renowned VARIO holographic lens technology and Hot-spot Reduction Technology. The beam system carefully spreads and controls light across the full width and depth of the scene. It focuses more light where it is needed, reducing light wastage in the foreground and up into the sky.
Without professional surveillance lighting designed for Ex environments the performance of your camera, image quality and any video analytics will greatly suffer.
SPARTAN – Ex IR Lighting Designed for the Toughest Environments
As well as meeting security system requirements, an Ex IR luminaire needs to work a lot harder than a non-hazardous luminaire, due to the tough environment that it will be located.
All SPARTAN IR luminaires are ATEX and IEC Ex approved. With a marine grade body, SPARTAN luminaires integrate the latest high power LEDs with field proven LED thermal management, to withstand the most extreme conditions and temperatures from -52 to +55°C.
Additionally, SPARTAN IR luminaires are available as an emergency variant which guarantees up to 100% light output even when mains power is down.
If you have a hazardous area surveillance project in need of illumination, contact sales@raytecled.com or call us on 01670 520055 to discuss the benefits that SPARTAN luminaires can bring to your system.