The Future of Low Light Surveillance
Achieving high performance images at night is one of the greatest priorities of any video surveillance system. Under the cover of darkness there a greater risk of crime, but it is also the most difficult condition for cameras to operate. This is where lighting becomes essential.
Of course, surveillance technology is evolving. Cameras are becoming smarter and more efficient than ever, and lighting needs to adapt to support the latest camera trends. The latest trends in higher megapixel, 4k+, multi-sensor and lowlight cameras, along with a greater adoption of video analytics, are fundamentally changing the way we illuminate night time scenes.
Broadly speaking, the latest advances in camera technology can be grouped into three main demands on LED lighting – to produce the best surveillance images and system performance at night. These are:
• More powerful illumination
• Intelligent networked illumination
• Reduced cost of illumination
This paper will explore the reasons for these 3 trends in LED lighting, and an emerging 4th trend – improved data for specifiers.
1: More Powerful Illumination
Over the last few years we've seen a steady rise in users demanding more detail from their surveillance images at night. High megapixel and multi-sensor cameras are being used to provide evidential detail, not just an overview of a scene. This represents a big leap forward in image quality for the security industry.
But more pixels require more light. High megapixel and 4k cameras need professional lighting to enable the higher resolutions that they are capable of – especially at night. Without dedicated lighting their performance will degrade back to noisy, lower resolution images. We can see this in the smart phone industry. The latest generation of smart phones, from the iPhone 7 to the Samsung Galaxy S7, settle on a camera sweet spot of around 12MP. Of particular interest is the Samsung Galaxy S6, which boasted 16MP. But the newer S7 model reduced that to 12MP to promote improved low light performance. So always remember, all things being equal, the higher the resolution the more light is needed.
One of the most powerful features of high MP cameras is their ability to digitally zoom into an image to extract more detail from a scene. But when you zoom, both the high quality pixels and noise in the image is magnified. High MP and 4k+ cameras demand more powerful illumination both to improve their overall performance, and to empower digital zoom at night.
To respond to the needs of high megapixel cameras, modern illuminators will have to guarantee higher levels of light on scene. Raytec measure the light output of all of our LED illuminators to calculate maximum distances based on exact light levels on scene – a standard practice followed by most reputable manufacturers. Every Raytec illuminator adheres to the 'POWERS standard' and delivers a minimum lighting power of 0.35µW/m2 (Infra-Red) and 3 lux (White-Light) at its maximum quoted distance; high illumination levels to service high performance cameras. Illuminating any scene to this level will allow the camera to capture highly detailed images and achieve subject identification by empowering digital zoom.


Multi-Sensor Cameras and Large Area Surveillance
The increased use of multi-sensor cameras also creates a demand for more powerful illumination. With multi-sensor cameras, huge areas can be monitored by stitching together multiple images, so that the end user can deploy fewer cameras to save on installation costs. A multi-sensor MP camera can cover the whole scene effectively and its digital zoom enables investigation of areas of interest.
The challenge from a lighting perspective is that huge areas need to be illuminated from a single location – close to the camera. When you are replacing multiple cameras with 1 camera and 1 camera location, then multiple illuminators also need to be replaced by 1 illuminator – not only to cover the whole scene but also to make good financial sense! So in this instance, the lighting needs to be both powerful and span an incredibly wide area, covering the entire width and depth of the scene. But crucially, it needs to deliver a consistently high level of light throughout the whole area, so that the images are of the best quality wherever they are captured in the scene – near or far.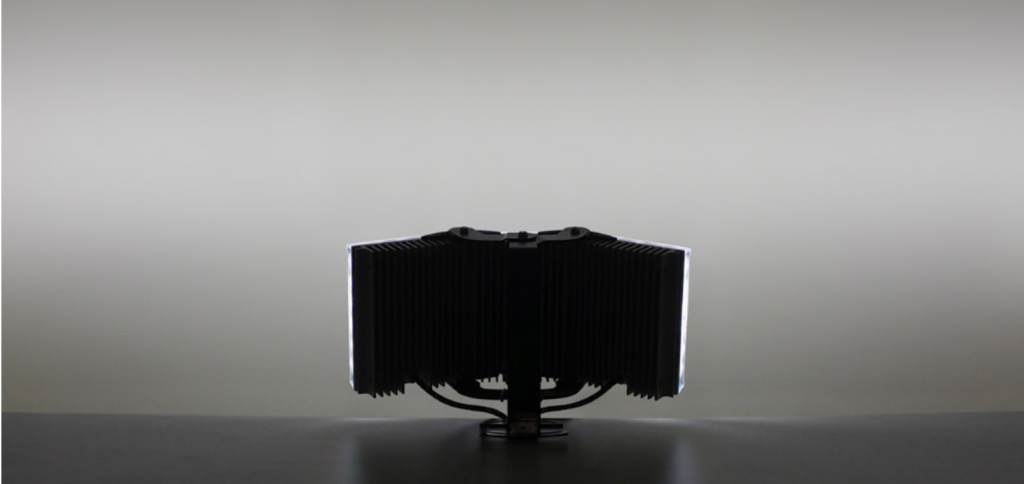 The solution is high power 180° lighting designed to cover the entire camera view. As an example, the latest Raytec Panoramic Ultra products illuminate up to 150m at an angle of 180° from a single illuminator so that multi-sensor cameras never miss an event at night.
The best solutions should use a highly elliptical beam which shapes the light to match the needs of the camera system. At Raytec we typically recommend a 180° horizontal x 10° vertical beam for wide angle applications to make sure the full scene is illuminated to its maximum distance without wasting any light – either into the sky as light spill, or onto the foreground as overexposure.
2: Intelligent Networked Illumination
IP Lighting for Intelligent Systems
Many of today's latest camera trends are IP based. IP video surveillance systems allow end users to monitor their site and respond dynamically to any event, at any time. When designing lighting for intelligent IP systems, it is important that your lighting provides this same level of control and interactivity.
The latest developments in network illuminators, such as Raytec's VARIO2 IP PoE series, offer the most flexible solutions for high performance nighttime surveillance. Network illuminators can be operated a) manually, through a user friendly GUI that allows operators to respond to real time events and adjust lighting levels to fine-tune image quality or b) automatically, responding to alarms or triggers
from other devices on the network. Illuminators can also be controlled individually, or a group of illuminators can be controlled together to improve operational efficiency on site.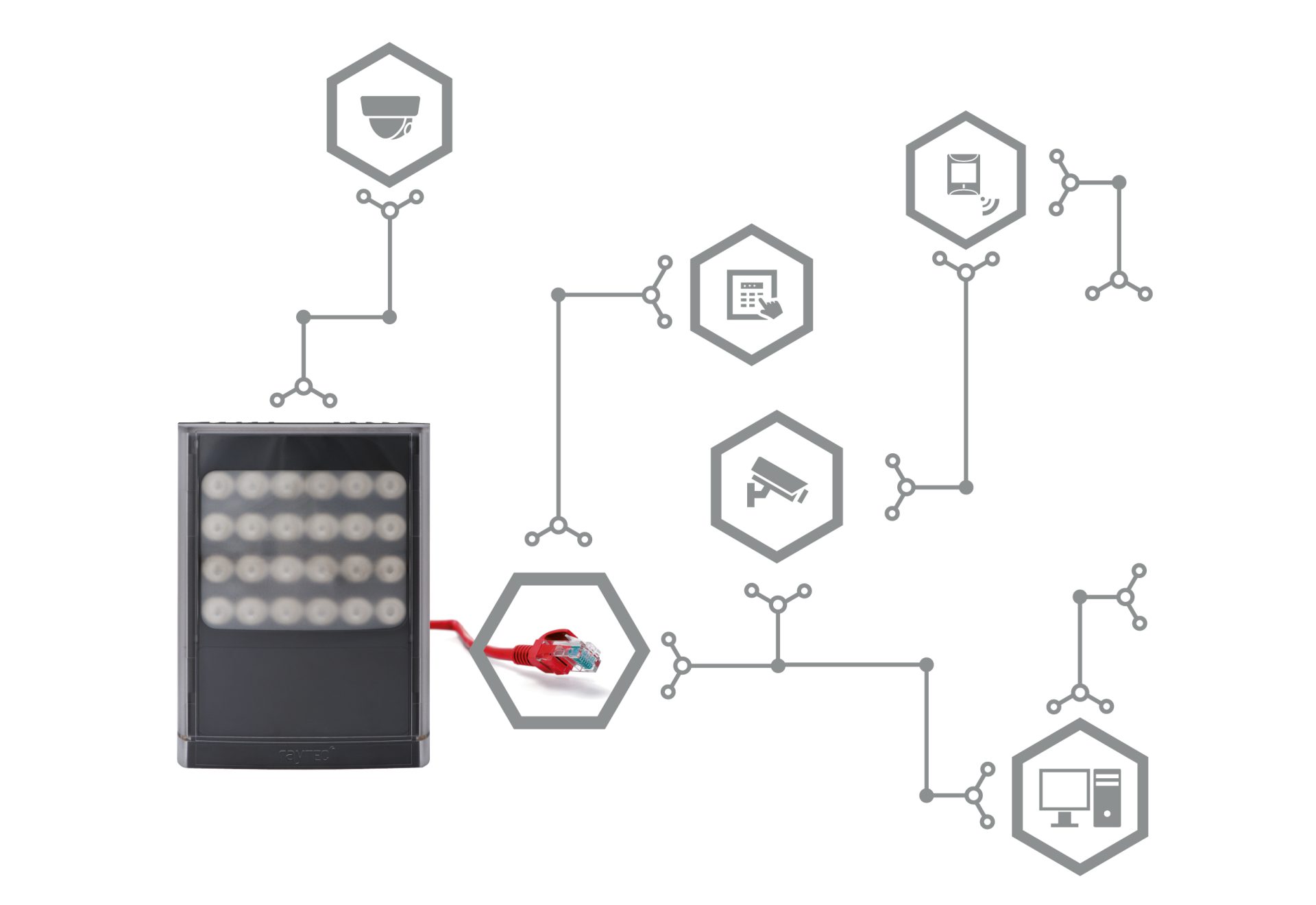 Today, the latest IP lighting for video surveillance can be fully integrated into an IP security system and communicate directly with VMS, BMS, IP cameras or other devices on the network. IP lighting can both trigger, and be triggered by any device on the network. IP lighting allows illumination to become smarter and more dynamic than ever before. It can deliver an intelligent, situation dependent response to achieve the highest levels of safety and security at all times.
For example, there is now no need to setup an illuminator to cover 1-100m as best it can. Both Infra-Red and White-Light systems can be set to automatically tailor and deliver exactly the right amount of light for the distance at which an event occurs, to get the absolute best images at night.
Additionally, the photocell on an IP illuminator, upon detecting darkness, can be used to trigger a camera, or a series of cameras to change into black and white mode – automating and synchronising the whole security system. IP lighting can also be programmed to act on alarm. For example, if an intrusion is detected at a perimeter fence line, visible White-Light LEDs along that perimeter can be turned on to aid visual inspection, whilst also acting as a highly visual
deterrent to any intruders.
The possibilities are endless, limited only by your imagination. But always remember, a smart system should only use the
right amount of light when it is needed to save running costs.
3: Reduced Cost of Illumination
Low Light – Not No-Light
There is little doubt that cameras are getting better in low light conditions. All of the major camera manufacturers now have low-light models that are highly sensitive to light. These cameras are designed to maximise any available light on scene to produce images at night. But remember, these are low light cameras, not no-light cameras. All cameras need light to see, whether that's in the security industry, photographic industry, televisual industry or integrated into your smart phone. Good lighting and a noise free image will also lower your bandwidth and storage, whilst maintaining a higher frame rate for accurate real time video.
Whilst all cameras need good lighting to see at night, the big advantage of low-light cameras is that they produce great results with significantly less light. This means, that when you use a professional low-light camera you can use a smaller LED illuminator to deliver the same distances that you would achieve with a more basic camera and a larger illuminator. Effectively, using a low-light camera lets you reduce the cost of your supplementary lighting.
What you should never do is use a low-light camera without any professional surveillance lighting. Why pay extra for a high performance camera and then limit its performance by not providing illumination for it? Even the best cameras will still produce noisy images in darkness that will seriously impact the performance of video analytics and create false alarms. No light = no video analytics.
Raytec continually test our lighting with a wide range of world leading cameras. When we carefully align the latest high power LED lighting with a high performance low light camera, the results are outstanding. Our recommendation to get the best pictures and performance at night would always be to choose a high performance camera and support it with a small amount of professional LED lighting.
More Light for Your Money!
Over time technology improves, and the cost of that technology comes down. We can certainly see this with surveillance cameras where there has been some price erosion. This means that lighting manufacturers must also respond with lower cost solutions. If the cost of a video surveillance camera falls, then it follows that the price of lighting must also fall to support that camera.
LED lighting is a global growth technology attracting lots of investment. Consequently, the performance of LEDs is constantly improving and developing. Modern illuminators that are purpose designed for video surveillance and use the latest optics and LEDs, can deliver over 200% more lighting power than illuminators that are only 3-4 years old. As an example, Raytec's latest range of VARIO 2 illuminators utilises PLATINUM Elite SMT LED technology to deliver up to 236% more power than its predecessor VARIO(1).
Modern illuminators deliver more light output for your money, or "more metres of illumination per $". This often means that you can utilise a smaller illuminator than was previously possible, making your installation more cost effective.
4: Improving Data for Specifiers
Taking the Guess Work out of Surveillance Lighting
Let me share a secret with you. The datasheet of an Infra-Red or White-Light illuminator has never been able to precisely tell you how well a light will perform. Is one manufacturer's 100m illuminator exactly the same as another manufacturer's 100m illuminator? How do they calculate their maximum distance? As a lighting professional it is impossible to rate products from a datasheet, so specifiers have always been in an impossible situation.
Essentially, the security industry as we know it, has long been absent of any accepted surveillance lighting standards; each manufacturer has always established their own performance criteria. After helping our customers face this challenge for the last 25 years, Raytec have tackled this head on by publishing the industry's first lighting for surveillance standard – "POWERS". POWERS is an open standard available for all manufacturers to adopt.
As part of the POWERS standard, Raytec provide standardised and scientifically tested lighting data to support our performance claims – especially distance. The POWERS standard defines the amount of light needed at the maximum quoted distance; 0.35µW/cm2 for IR and 3 lux for white-light.
The POWERS data is designed to help all security professionals to more easily specify and reliably compare the performance of different illuminators. It also provides an understanding as to how a chosen lighting product will perform.
Based on decades of experience, POWERS data is available for all of Raytec's VARIO2 illuminators. It allows
security professionals to specify with confidence, and provides reliable and consistent information on which to base their choices.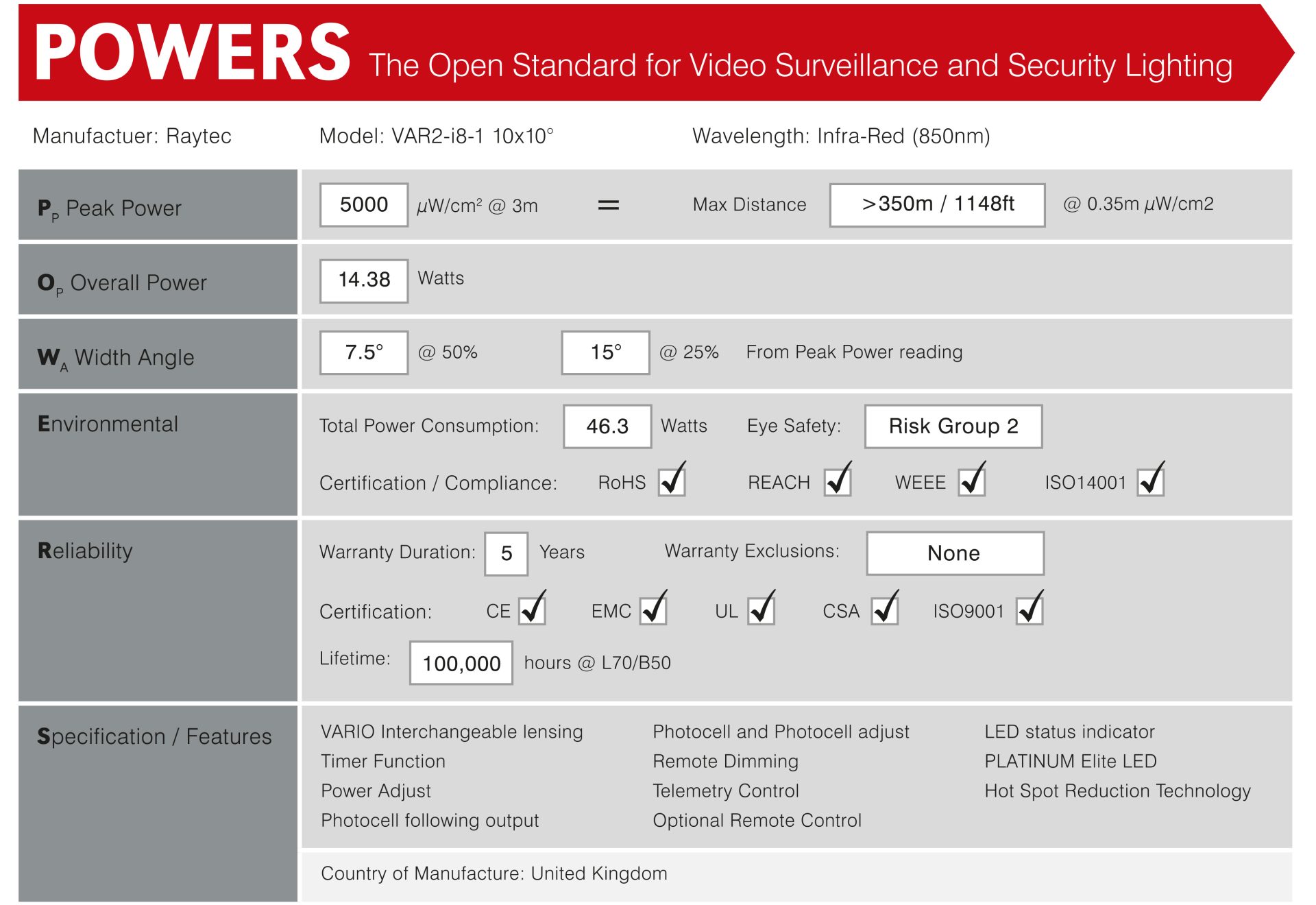 We Love to Talk Lighting
Raytec are proud to lead lighting education in the security industry. You can learn all there is to know about lighting by exploring our dedicated Industry Knowledge hub on our website www.rayteccctv.com.
You can also take advantage of our free lighting design service, which provides a real life insight into how your installation will perform. To ask us any question regarding your existing lighting or potential upgrade, contact us on +44 (0)1670520055 or email sales@rayteccctv.com