Bay XR
WARRIOR Bay XR, 8,000lm - 20,000lm
About WARRIOR XR Bay
Sector

Industrial

Certification

Certified to UL 1598 / CSA C22.2 No. 250.0-08, UL 1598A, UL 8750 /CSA C22.2 No. 250.13-17Certified to UL 844 and CSA C22.2 No. 137-18:
WARRIOR XR Industrial LED luminaires are suitable for high ambient temperature applications with 8' to 25' mounting heights. WARRIOR XR is factory programmed to offer light outputs ranging from 8,000 to 20,000 lumen. Auto-ranging power supplies allow operation on 120-277 VAC or 347-480 VAC. Optional 0-10V dimming provides further opportunities for fine-tuned illumination results based on facility and operator preference.
Several optional mounting brackets allow common use cases for the XR such as area floodlights, platforms, pole tops, building perimeter, wall packs (indoor and outdoor), low and high-bays, surface mounted lights on modular equipment, interior and exterior illumination on marine vessels, saltwater rich locations and much more.
Proprietary design features allow thermal separation of power supply and LED heat sinks without the need for physical separation. The two-part copper-free and marine-grade aluminum alloy housing minimize thermal interaction for all electronics, allowing increased ambient temperature ratings. Ingress Protection levels of IP66 enable high-pressure washdowns while the use of a pressure equalization membrane allows for dramatic altitude and humidity changes without stressing electronic components.
A multilayer powder coat prevents degradation of the alloy while allowing deployment in corrosive, outdoor and indoor locations. Increased fin spacing promotes debris shedding as well as optimized airflow to maintain low operating temperatures for the internal power supply and LEDs.
Specs
Select Option
XR8
XR10
XR15
XR20
Housing
Copper-free Aluminium, PC and PMMA Optics
Input Voltage
AC: 120-277VAC | HV: 347-480VAC (50/60Hz)
Power (Typ)
WC Flood 47W Optic 60W
WC Flood 55W, Optic 75W
WC Flood 84W, Optic 103W
WC Flood 141W, Optic 156W
Connections
3x 3/4" NPT
Temperature Range (CID2, C1Z2)
-50°C to +75°C T3C
-50°C to +74°C T3C
-50°C to +74°C T3C
-50°C to +67°C T3
TemperatureRange (CIID2, Z22)
-50°C to +50°C T3C
Certifications
Certified to UL 1598 / CSA C22.2 No. 250.0-08, UL 1598A, UL 8750 / CSA C22.2 No. 250.13-17 Certied to UL 844 and CSA C22.2 No. 137-18
IP Rating
IP66
Colour Temperature
5000K (2700-6500K options available)
CRI
70
Lumen Maintenance
LM-80 > 100,000 hrs (Based on CREE long term testing)
Weight
8.1 kg (17.8 lbs)
Product Dimensions.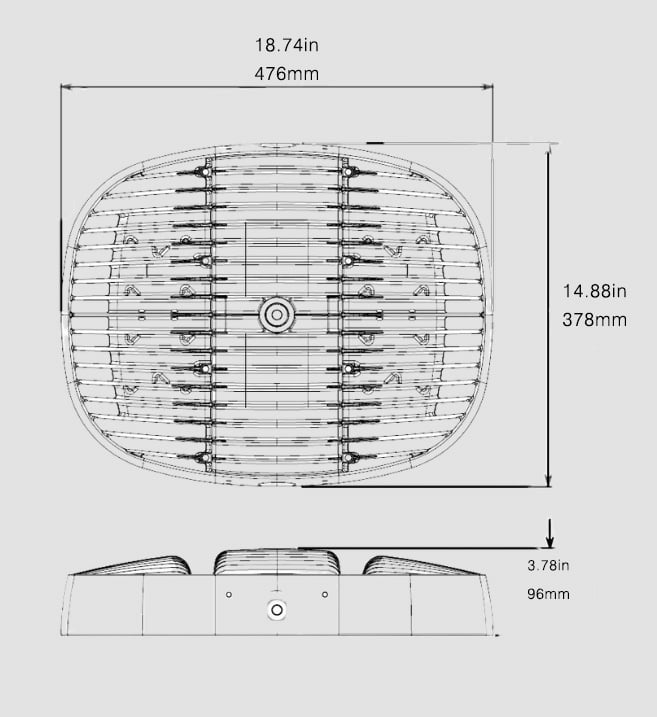 WARRIOR Bay XR