Linear NL
WARRIOR Linear NL, 3,970lm - 10,470lm
About WARRIOR NL Linear
Sector

Industrial

Certification

Certification: UL 844, UL 1598, UL 1598A, and UL 8750; CSA 22.2 No. 137, CSA 22.2 No. 250.0 and CSA 22.2 No. 250.13
NL fixtures are durable and robust linear luminaires designed to replace linear fluorescent fixtures in industrial and tunnel applications. With a projected lifespan of 60,500 hours.  The NL is available in 2ft and 4ft lengths and can be surface-mounted or suspended from a ceiling. Up to 10.5K lumens output, IP66 rating, multiple light output packages and easy field angle adjustment make the NL a flexible replacement for linear fluorescent fixtures.
Designed for industrial and harsh locations. 100% field serviceable for components and sub assemblies.
Minimum CRI of 70. Field angle adjustment with optional swivel mount. Surface or suspension mounting. End-to-end wiring installation. Multiple light output options to replace fluorescent fixtures. -40C to +55C operating range. IP66 vented enclosure eliminates pressure differentials for reliable sealing.
0-10V dimming 1%-100%.
Specs
Select Option
NL2S
NL2H
NL2X
NL4S
NL4H
Housing
Powder Coated Aluminium
Input Voltage
AC: 120-277 VAC | HV: 347-480 VAC
Rated Power
AC: 36W | HV: 36W
AC: 52W | HV: 52W
AC: 70W | HV: 82W
AC: 85W | HV: 90W
AC: 105W | HV: 109W
Connections
3/4 NPT, Both ends
Temperature Range
AC: -40 to 55°C | HV: -40 to 54°C
AC: -40 to 55°C | HV: -40 to 54°C
AC: -40 to 52°C | HV: -40 to 46°C
AC: -40 to 55°C | HV: -40 to 54°C
AC: -40 to 55°C | HV: -40 to 52°C
Certifications
Certified to UL 844, UL 1598, UL1598A and UL 8750; CSA 22.2 No. 137, CSA 22.2 No. 250.0 & CSA 22.2 No. 250.13;
IP Rating
IP66
Colour Temperature
5000K (2700-6500K options available)
CRI
70
Total Lumens
3970
5143
7965
8697
10470
Lumen Maintenance
LM-80 > 60,600 hrs
Weight
5.3 kg (12 lb)
5.3 kg (12 lb)
5.3 kg (12 lb)
8.6 kg (19 lb)
8.6 kg (19 lb)
Product Dimensions.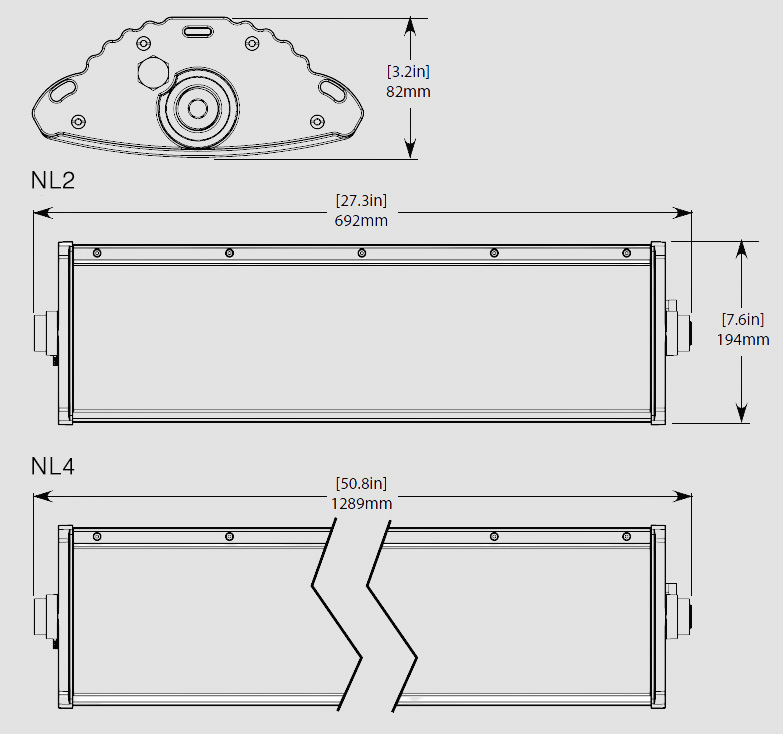 WARRIOR NL Linear