IPPoE
VARIO2 IPPoE, medium and long-range Infra-Red illuminators with full network capability
About VARIO2 IPPoE – IR
Sector

Security

Wavelength

850nm (940nm options available)
The awarding-winning VARIO2 IPPoE delivers dedicated high-performance lighting for IP cameras. It can be fully integrated into an IP eco-system to provide smart, situation dependent lighting.  The range is made up of a number of sizes designed to cover medium and long-range distances. VARIO2 infrared security light delivers world-leading power and illumination distances which can improve the performance of any video surveillance system at night.
Jump to Downloads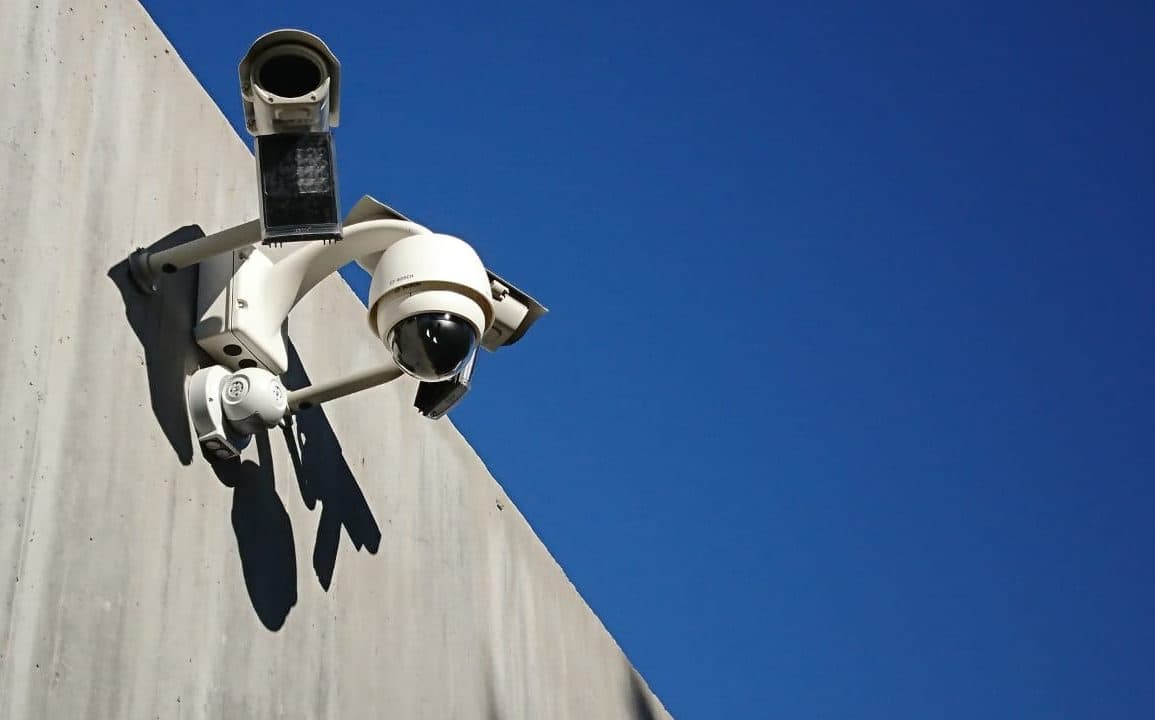 Outstanding Distances.
VARIO2 delivers distances of up to 500m (1,640 ft) of Infra-Red illumination, utilising PLATINUM Elite SMT LED technology for maximum performance and reliability.
Fully Programmable.
Control from anywhere on the network. Easy set-up, commissioning, operation and maintenance, minimising labour time and costs whilst maximising performance 24/7.
Integrated Web Interface.
An integrated web interface provides a host of user-defined additional settings and diagnostics tools. Tailor your solution to meet the exact demands of your installation.
Advanced Security.
Greater levels of security, including stricter access controls and HTTPS. Health monitoring and lifetime diagnostics also provide insight into the illuminator's history and status.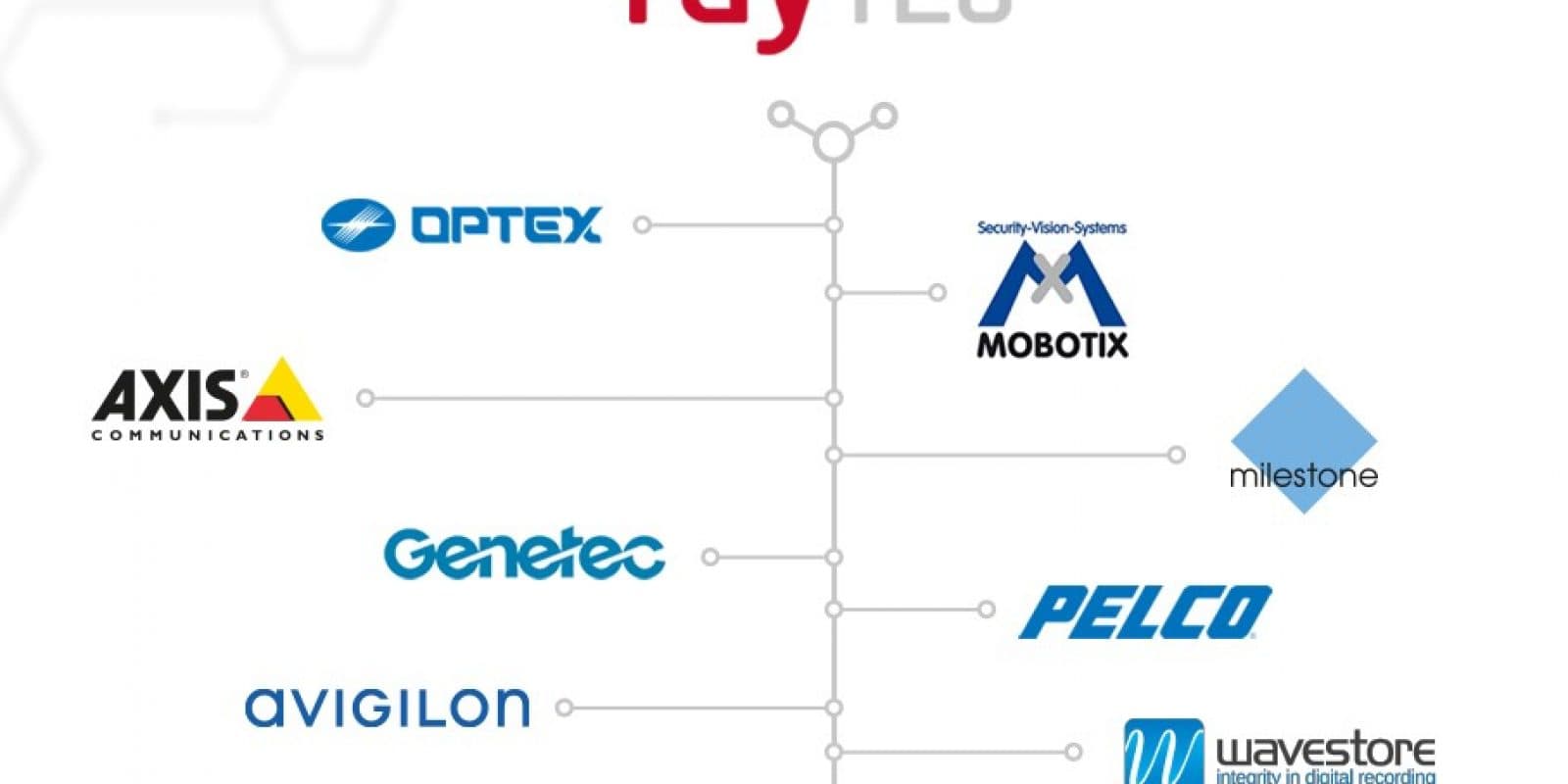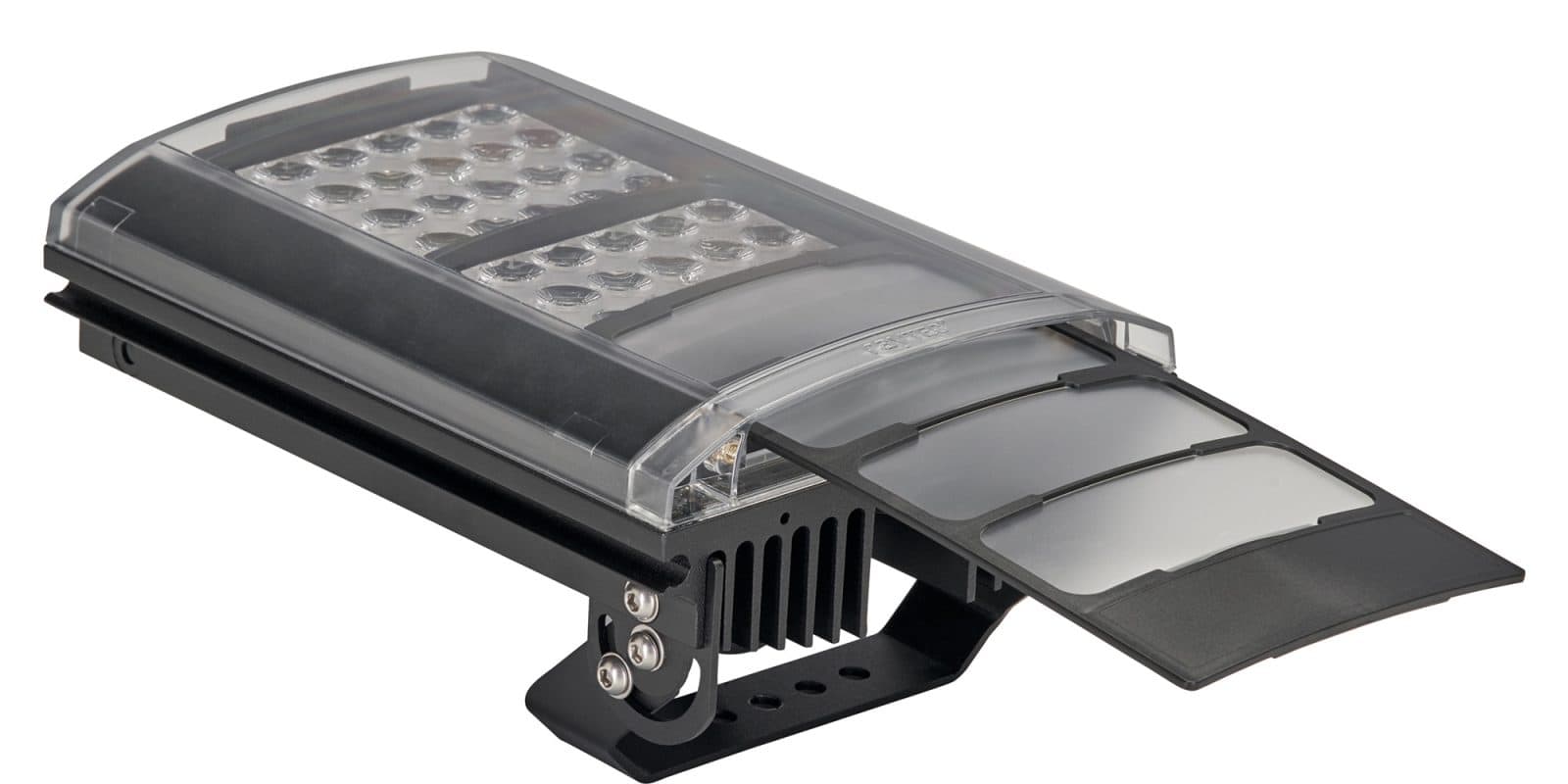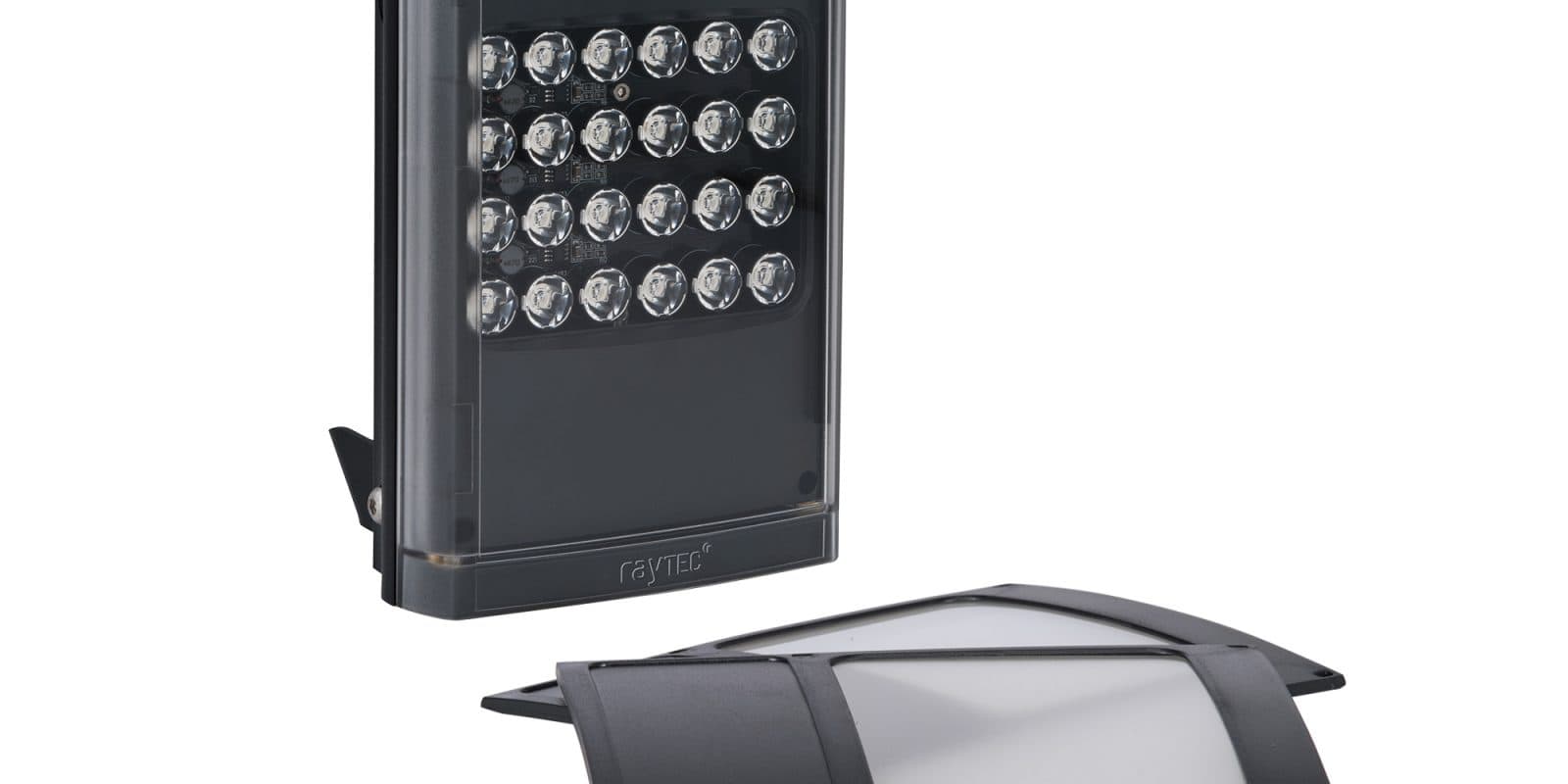 VARIO2 Variants.
VARIO2 illuminators are available in a range of different sizes to suit different applications and requirements.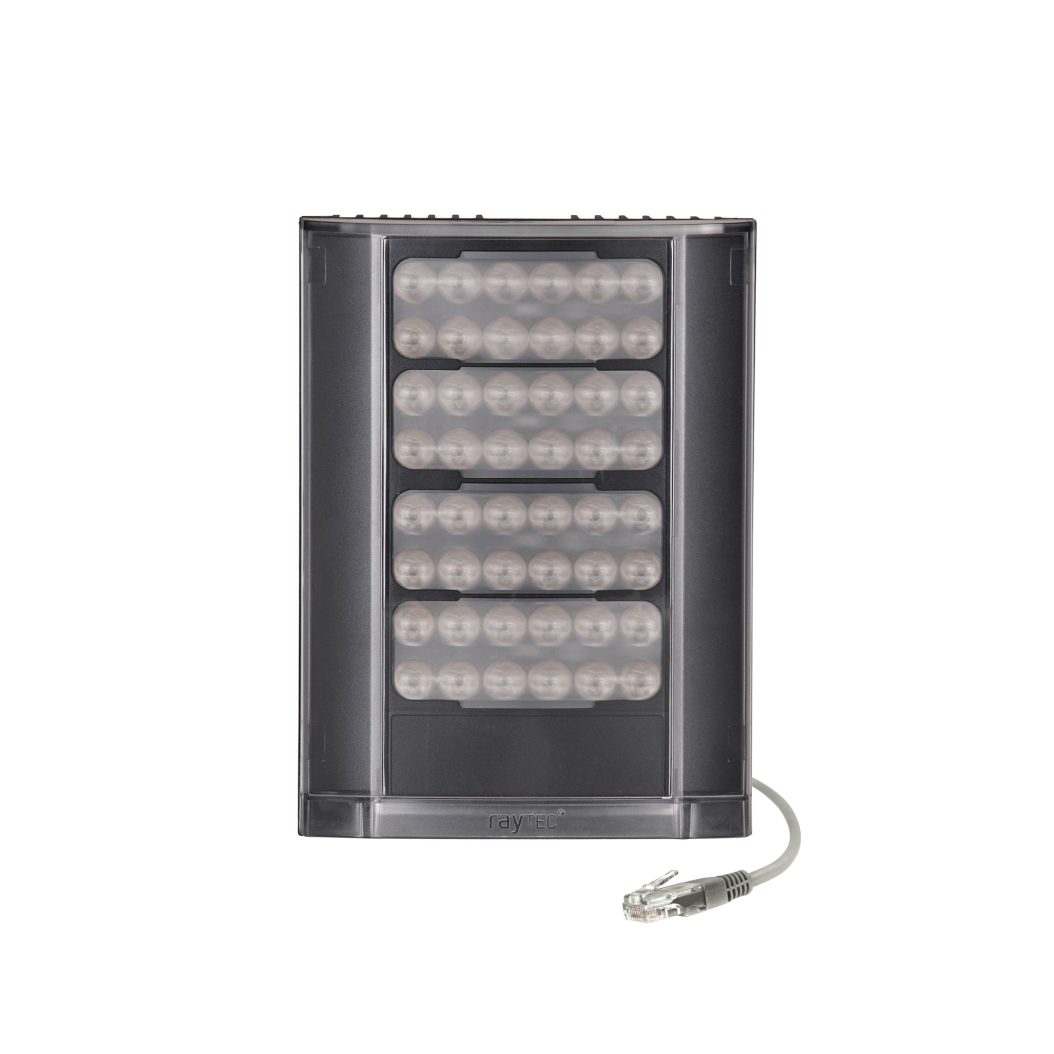 i16
i16-1 long-range illuminator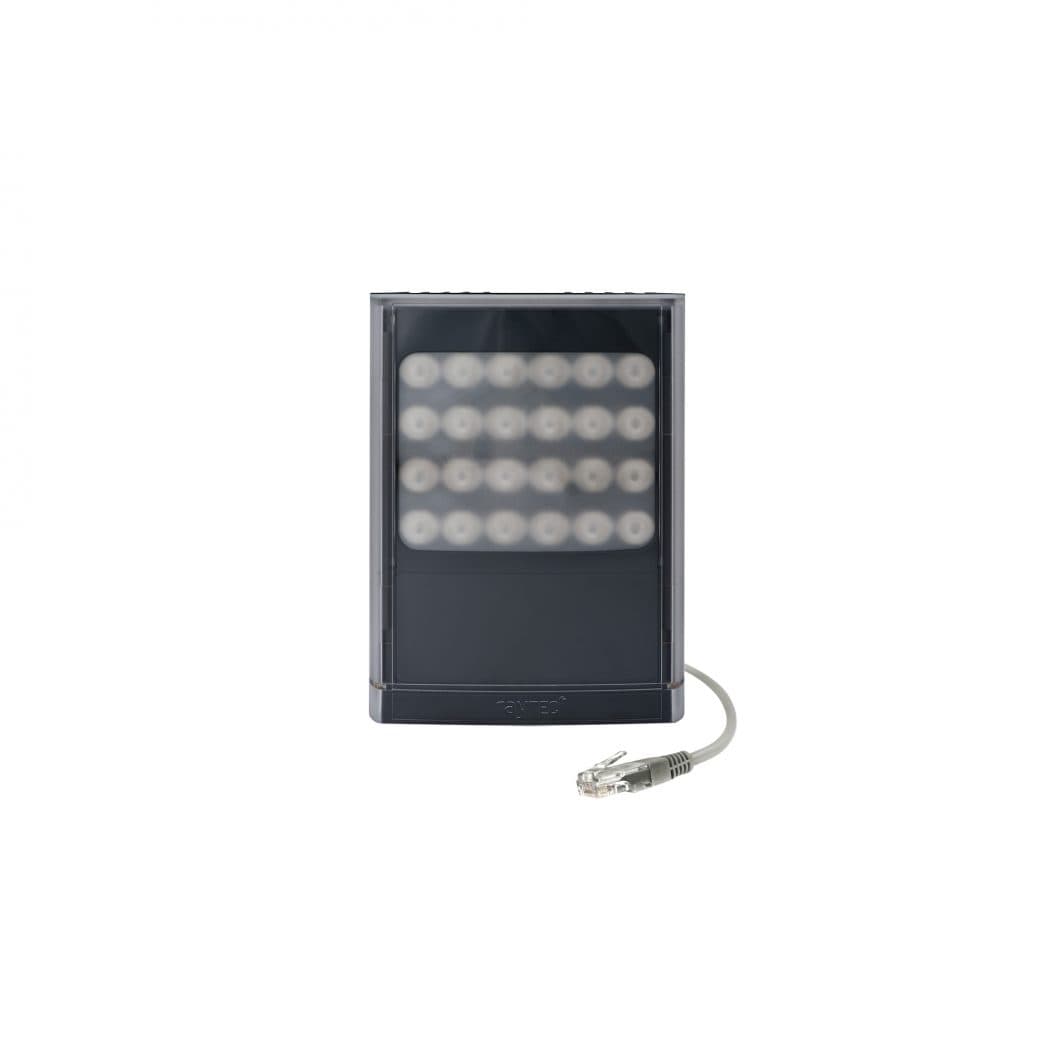 i8
i8-1 long-range illuminator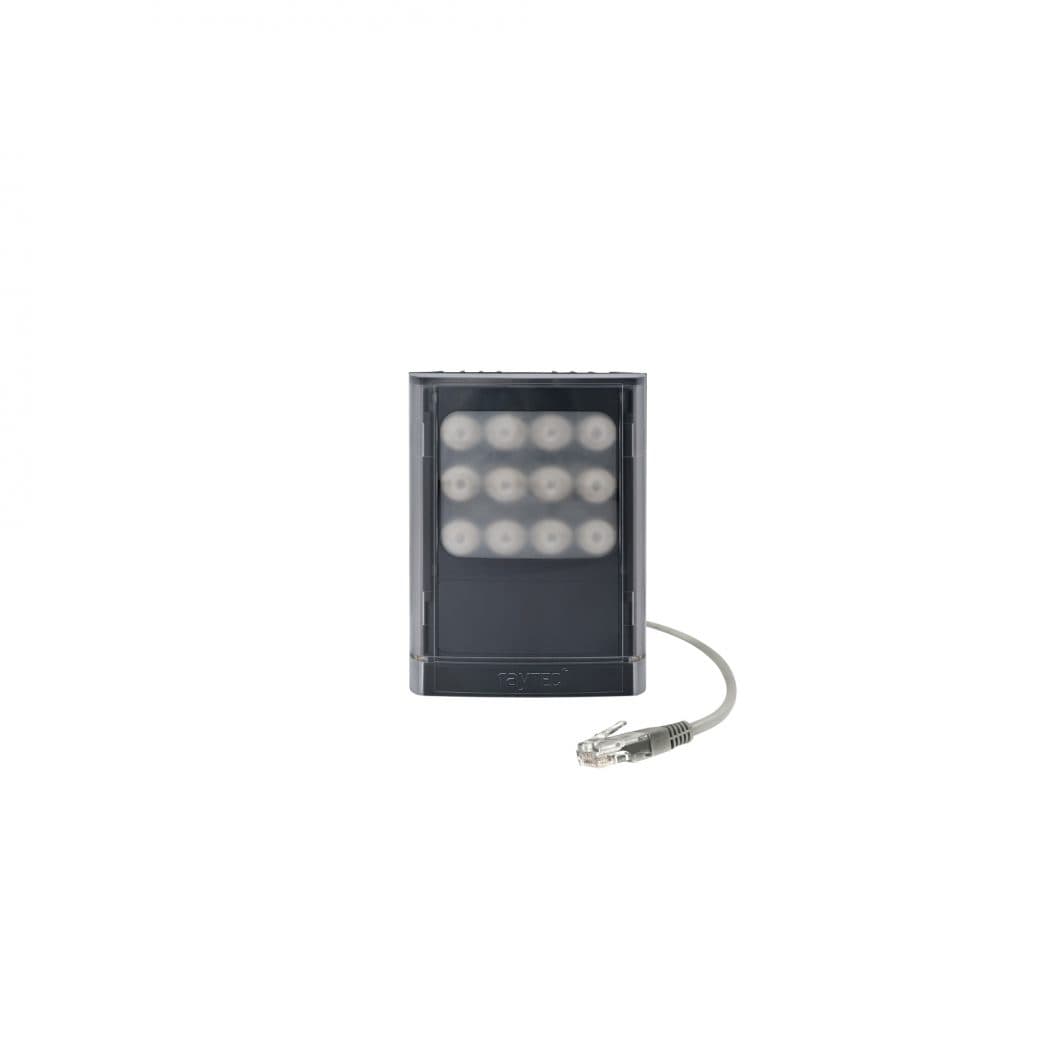 i6
i6-1 long-range illuminator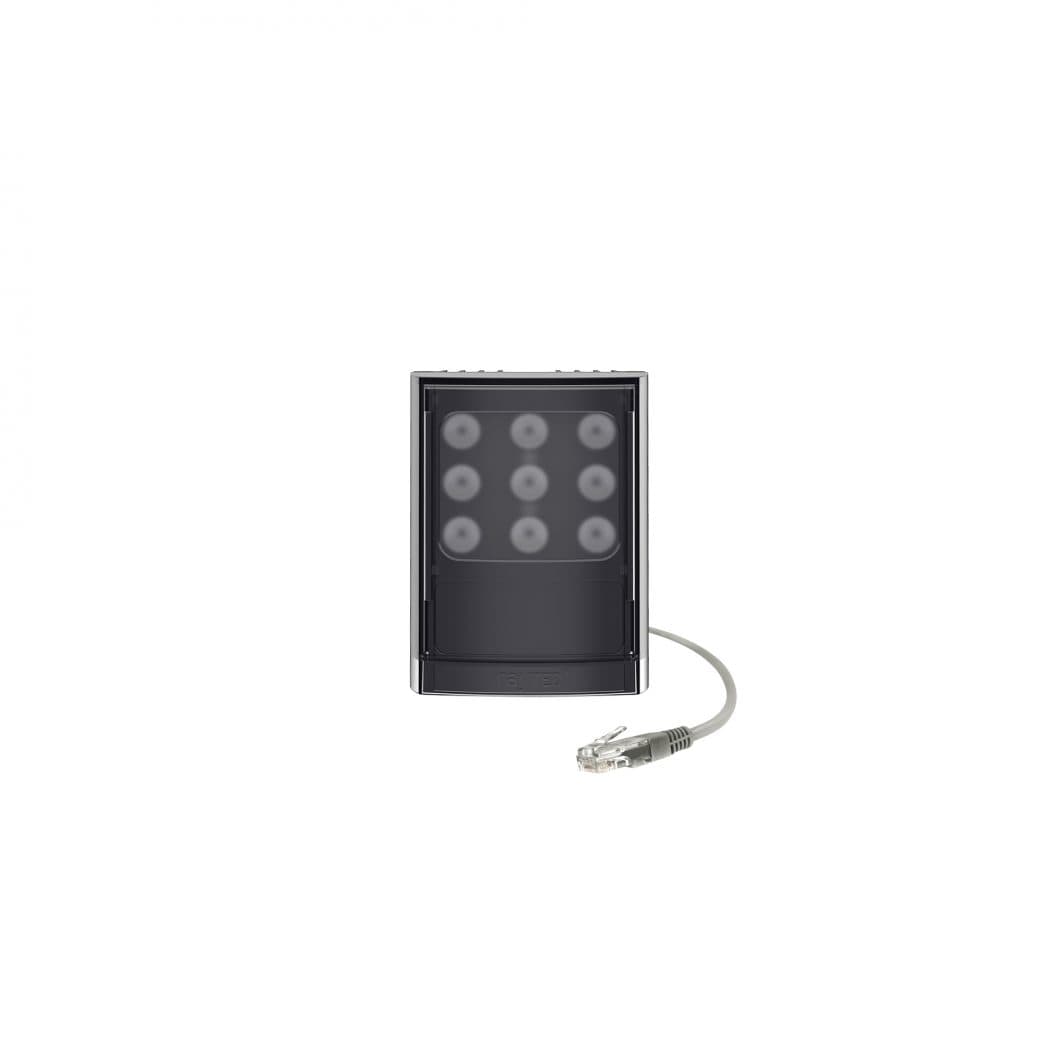 i4
i4-1 medium-range illuminator
Specs
Select Option
i4
i6
i8
i16
Max Distance
144m (472 ft)
200m (656 ft)
350m (1148 ft)
500m (1,640ft) - DC supply
420m (1,378ft) - POE supply
Angle
Standard pack includes 10° circular + 35° x 10° (fitted as standard) and 60° x 25°elliptical lenses. Additional optional lenses: 80° x 30°, 120° x 50°
Input
PoE+ IEEE 802.3at or 24V DC
PoE+ IEEE 802.3at or 24V DC
60W PoE (4-pair PoE), IEEE 802.3bt or 24V DC
90W PoE (4-pair PoE) IEEE 802.3bt or 24V DC
Consumption
15W (25W for 940nm variants)
25W
51W
93W - DC supply
71W - PoE supply
Data Input
Cat 5 Cable
HTTPS
Encryption algorithm: ECDSA (256 bit private keys)
HTTPS Certificate
DiscoMan Version 2 required for certificate generation by DiscoMan
Beam Shape
Elliptical with HRT
(Hot-spot Reduction) Technology
Beam Angle System
VARIO Interchangeable Lens System
LED Type
Platinum Elite SMT LEDs
Number of LEDs
9 (12 for 940nm variants)
12
24
48
Wavelength
850nm (940nm options available)
850nm
850nm (940nm options available)
850nm (940nm options available)
IP Rating
IP66
Temp Range
-50° to +50°C (-58 to 122°F)
Colour
Black
Weight
950g (2.1lbs)
950g (2.1lbs)
1.65kg (3.6lbs)
3.16kg (7lbs)
Cable Length
2 x 2.5m
Bracketry
U bracket included.
VUB Bracketry also available (Optional)
Min. System Req.
PC running Windows with network access and a modern web browser
Hardware Features
Quick Access Software Features
Advanced User Defined Software Features
System Integration
Security and Diagnostics
In-built photocell for automatic on/off operation
Individual or group control (Groups up to 16 units)
Timer functions
API for integration into 3rd party platforms
Advanced security
Configurable external output
Power On/Off
Soft start turn on
API for integration into network devices via HTTP commands
HTTPS
External telemetry input
Power control: 20-100%
3 x deterrent patterns
Lifetime diagnostics
Boost: 110% power for 10 seconds
3 x deterrent speeds
Advanced diagnostics with health monitoring
Deterrent feature with selectable patterns and speeds
Selectable external telemetry input: volt – free or TTL
Administrator and user access levels
Photocell sensitivity trigger level
Password Protection: create user and administrator passwords
Assign illuminator to group for collective control
Assign name, group name and IP address
Restore factory defaults
Restart/reboot
Software upgrade
Supported protocols include HTTP, Local and VMS operating modes (including combinations
Ping command functionality
See datasheet for full list of features and specification
Product Dimensions.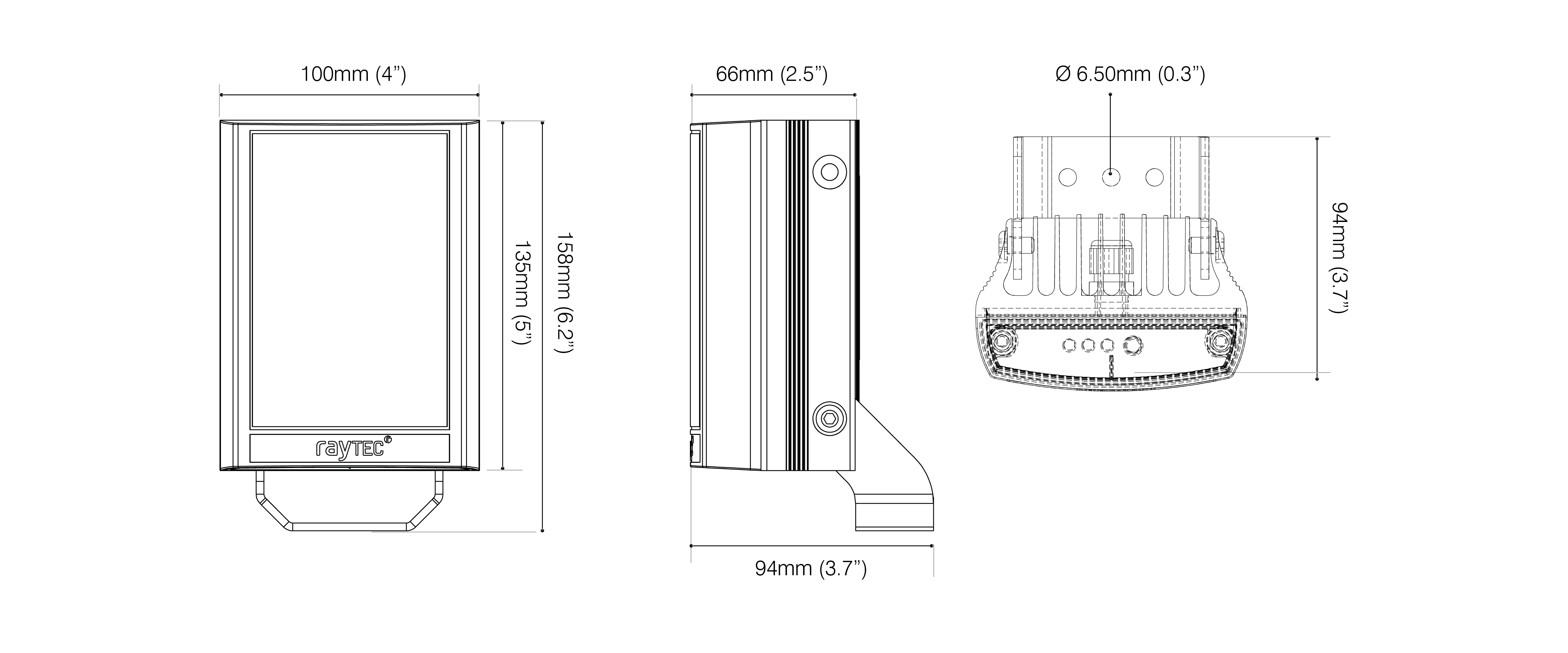 VARIO2 IP PoE i4 & i6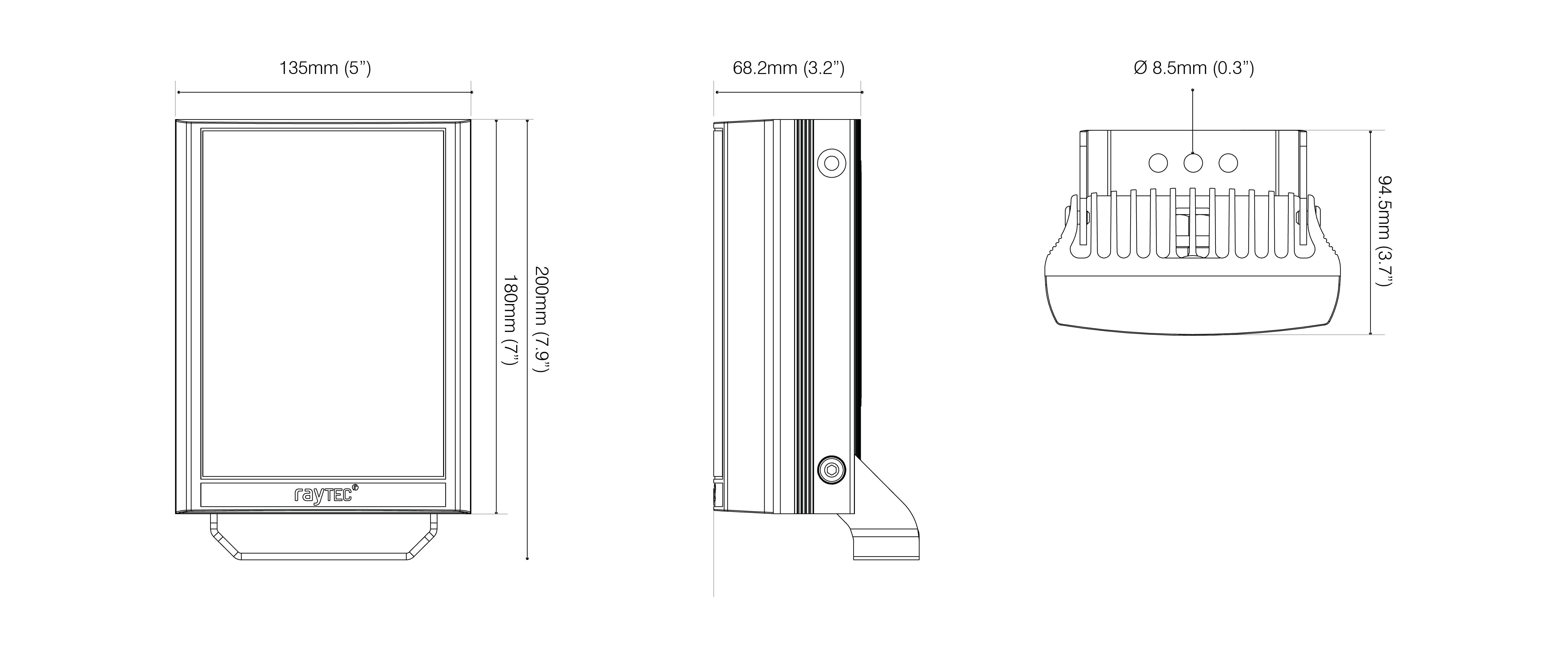 VARIO2 IP PoE i8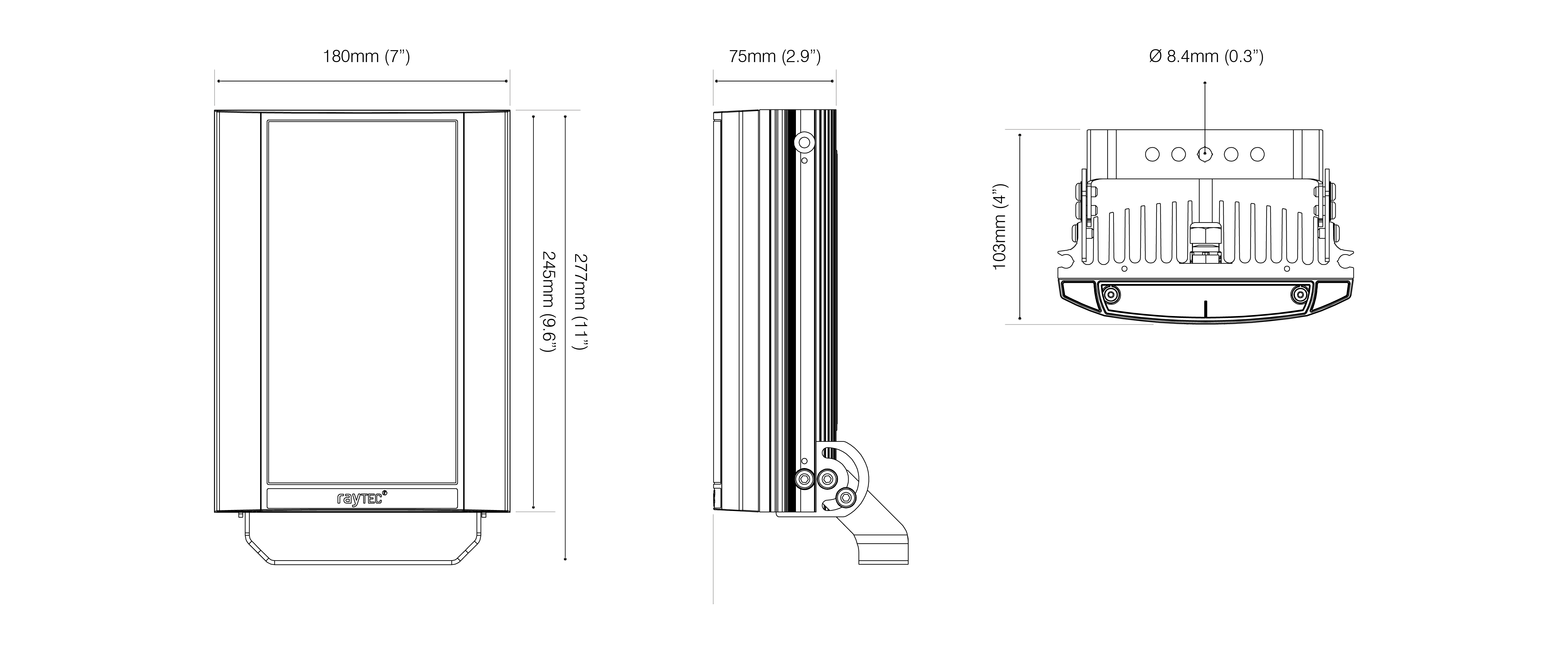 VARIO2 IP PoE i16