Bay AR
SPARTAN Bay AR, Class I Division 2, 10,000lm - 33,000lm
About SPARTAN AR Bay
Sector

Hazardous

Certification

Certified to UL 844, UL 8750, CSA 22.2 No. 137, CSA 22.2 No. 250.0, CSA 22.2 No. 250.13; NSF-2: Splash and Non-Food Zones; Class I, Division 2, Groups ABCD; Class II, Division 2, Groups FG; Class III; Class I, Zone 2, Groups IIC; Class I, Zone 22, Groups IIIB
SPARTAN AR is an LED luminaire designed for applications requiring a high lumen output system capable of withstanding exposure to highly contaminated environments and rigorous cleaning routines with corrosive chemicals. 100% field serviceable with multiple distribution patterns and multiple mounting options. Thermally managed for maximum longevity. Extremely water resistant, and corrosion protected for marine applications.
Special powder coating for extreme resistance to chemical attack, aggressive cleaning agents and biocides used in food processing industries.
NSF Certified for use in Splash and Non-Food Zones. Low surface energy coating and smooth surface texture prevent debris build-up and staining.
ARs are factory programmed to offer light outputs ranging from 10,000 to 33,000 lumen for hazardous as well as up to 48,000 lumens in general location applications. Auto-ranging power supplies allow operation on 120-277 VAC or 347-480 VAC. Optional 0-10V dimming provides further opportunities for fine-tuned illumination results based on facility and operator preference.
Specs
Select Option
AR10
AR15
AR20
AR25
AR30
Housing
Die-cast Aluminium with Polycarbonate Lens
Input Voltage
AC: 120-277 VAC | HV: 347-480 VAC (50/60Hz)
Power (Typ)
Model dependent - refer to product datasheet
Connections
2 x 3/4" NPT
Temp Range (CID2, C1Z2)
Model dependent - refer to product datasheet
Temp Range (CIID2, Z22)
Model dependent - refer to product datasheet
Certifications
Certified to UL 844, UL 8750, CSA 22.2 No. 137, CSA 22.2 No. 250.0, CSA 22.2 No. 250.13; NSF-2: Splash and Non-Food Zones Class I, Division 2, Groups ABCD; Class II, Division 2, Groups FG; Class III; Class I, Zone 2, Groups IIC; Class I, Zone 22, Groups IIIB
IP Rating
IP66/67 Suitable for wet locations. Marine outside type (salt water)
Colour Temp
50: 5000K | Special Order 2700-6500
CRI
50: 70 | Special Order: 90+
Lumen Maintenance
LM-80 > 100,000 hrs (Based on CREE long term testing)
Weight
16.4 kg (36 lbs)
Product Dimensions.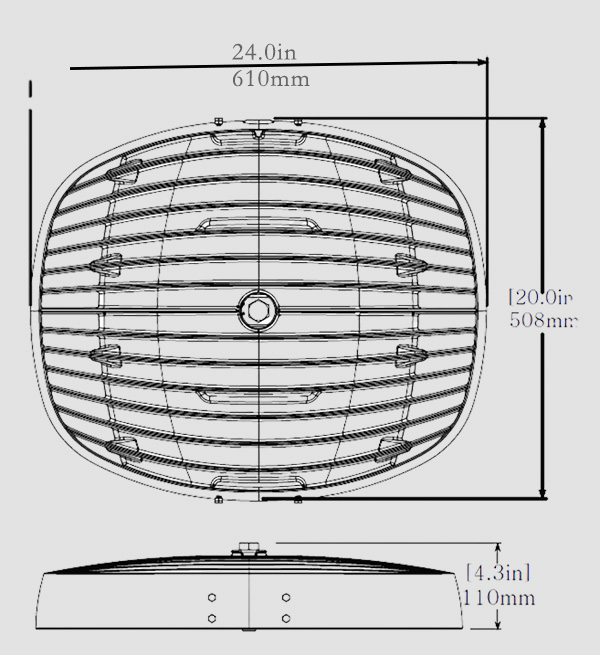 WARRIOR - AR Bay